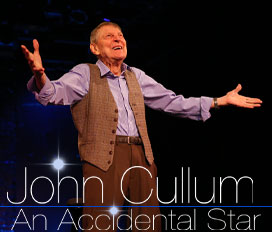 John Cullum: An Accidental Star
Conceived by John Cullum and Jeff Berger
Written by David Thompson
Music Supervision Georgia Stitt
Music Direction by Julie McBride
Directed by Lonny Price and Matt Cowart
A co-production with Goodspeed Musicals and Irish Repertory Theatre
in association with Jeff Berger
Go behind the scenes with Broadway icon John Cullum — from his 1960 debut in CAMELOT and Tony Award-winning performances in Shenandoah and On The Twentieth Century, to starring roles in On A Clear Day You Can See Forever, Urinetown and The Scottsboro Boys. John captivates with songs from the Golden Age of the American Musical and never-before-heard stories of working with friends Richard Burton, Elizabeth Taylor, Robert Goulet, Julie Andrews, and more. An Accidental Star is a rare opportunity to revisit the making of some of Broadway's greatest shows, and the funny, moving and fascinating encounters John had along the way. Runtime: 80 minutes.
---
Production Sponsors
Ken and Rande Greiner
Sponsorship Provided by
Sennheiser
Morgan Stanley, Geoffrey Paul, Financial Advisor
Masonicare and Chester Village
Artists
Jeff Berger
Jeff Berger has been a proud member of the New York performing arts community for almost 40 years, as a music manager, record company executive, talent agent, and for the past 19 years, talent manager and President of Jeff Berger Management. He owes his enthusiasm, drive, and energy to his wonderful clients, some of whom he has represented for more than 30 years, Jeff began his producing career at the invitation of the legendary Hal Prince, and he has a number of projects on the boards for the next two seasons.
Georgia Stitt
Georgia Stitt is an award-winning composer, lyricist, music producer and pianist. She has two original musicals that premiered recently: Snow Child (Arena Stage) and Big Red Sun (11th Hour Theater, NAMT). Her children's musical, Samantha Spade, Ace Detective, (TADA Youth Theater) won "Outstanding New Musical" from the National Youth Theatre and is now licensed by Concord Theatricals. Other shows include The Big Boom (with Hunter Foster), The Water (winner of the 2008 ANMT Search for New Voices in American Musical Theater) and Mosaic (commissioned for Inner Voices, starring Heidi Blickenstaff). Georgia has released four albums of her music: A Quiet Revolution, My Lifelong Love, Alphabet City Cycle and This Ordinary Thursday. She is currently at work on a collection of theatrical art songs and an oratorio. Georgia is in leadership at The Dramatists Guild and MUSE and she is the Founder and President of Maestra, an organization for the women who make the music in the musical theater. www.georgiastitt.com
Julie McBride
Julie McBride is a NYC-based music director, pianist, educator, arranger and orchestrator. She was most recently the music director and conductor for the Broadway shows SpongeBob SquarePants!, Head Over Heels and INK (Manhattan Theatre Club). Other Broadway credits include Pretty Woman (associate conductor), Amazing Grace (associate conductor), Finding Neverland (assistant conductor). Off-Broadway/regional credits include: Unknown Soldier (Playwrights Horizons), Next to Normal (Second Stage), These Paper Bullets! (Yale Rep, Geffen Playhouse, Atlantic Theatre Company), Deathless (Goodspeed), Miss You Like Hell (La Jolla Playhouse, Public Theatre) and Daddy Long Legs (10 regional productions). Her television and film credits include "Rise", "The Path", "Little Voice", "After.Life", and the upcoming remake of Steven Spielberg's West Side Story.
Lonny Price
In the fall of 2019, Lonny directed the world premiere of the Mitnick/Gwon collaboration, Scotland PA., for the Roundabout Theatre (produced in association with Hal Luftig). On Broadway, he directed Sunset Boulevard, (starring Glenn Close) Lady Day at Emerson's Bar & Grill, (Starring Audra McDonald) 110 in the Shade, 'Master Harold'… and the Boys, (starring Danny Glover) Sally Marr and Her Escorts (co-written with Joan Rivers and Erin Sanders), Urban Cowboy, and A Class Act (Tony Award nominated book co-written with Linda Kline). West End credits include Lady Day at Emerson's Bar and Grill at the Wyndham's, as well as Carousel, Sunset Boulevard, Sweeney Todd, and Man of La Mancha, all for the English National Opera. Film and television credits include his film version of the New York Philharmonic's Sweeney Todd (Emma Thompson and Bryn Terfel), and Company. He also directed the stage and filmed versions of his tribute to Stephen Sondheim, Sondheim: The Birthday Concert! (Emmy Award). Other Philharmonic collaborations include the "Live From Lincoln Center" broadcast of Camelot, Candide, Sweeney Todd (George Hearn and Patti LuPone, Emmy Award), and Sondheim's Passion (Emmy Award). Additional television credits include "Lady Day at Emerson's Bar and Grill" for HBO, as well as episodes of "2 Broke Girls," "Desperate Housewives," and the upcoming 'Plan Z.' For his first feature, Master Harold' … and the Boys, he received a Best Director Award from the New York International Independent Film and Video Festival. His documentary, Best Worst Thing That Ever Could Have Happened premiered at the New York Film Festival and was named one of New York Times' Top 10 Films of 2016, and his other documentary Hal Prince: The Director's Life (PBS) was released to critical acclaim as well.
David Thompson
David Thompson Librettist. Broadway/West End: The new libretto for the current revival of Chicago (the longest running American musical), The Scottsboro Boys (London's Critic Circle Award, Evening Standard Award, 12 Tony nominations including "Best Book," Drama Desk Nomination, Outer Critics and Lucille Lortel Awards for "Best Musical," Hull-Warriner Award), Prince of Broadway, Priscilla, Queen of the Desert, Thou Shalt Not, The Look of Love, Steel Pier (Tony Nomination "Best Book"). Off-Broadway: The Beast in the Jungle, And the World Goes 'Round, (New York Drama Desk and Outer Critics' Awards), Flora, the Red Menace, (Drama Desk nomination) UK Regional and London: The revised librettos for Rags at Park Theatre, Bar Mitzvah Boy at Upstairs at the Gatehouse, US Regional: A Christmas Carol, now in its thirtieth year at Princeton's McCarter Theater. Concert: Produced and Wrote James Taylor's Perspective Series at Carnegie Hall, My Favorite Broadway/The Leading Ladies at Carnegie Hall. Television: "Sondheim – A Celebration at Carnegie Hall" (Emmy Nomination), "Razzle Dazzle" for Great Performances, "The Music of Richard Rodgers with Lorenz Hart," "The Music of Richard Rodgers with Oscar Hammerstein" for WGBH Boston as well as the recent "Harold Prince – the Director's Life" for Great Performances. Thompson is a graduate of Northwestern's Medill School of Journalism.
John Cullum
John Cullum is a two time Tony Award recipient and a member of the Theater Hall of Fame.
He made his Broadway debut in Lerner & Loew's Camelot in 1960, and has been a perennial Broadway favorite for more than 60 years. His musical credits include On A Clear Day You Can See Forever, 1776, Man of La Mancha, Urinetown, The Scottsboro Boys, 110 In The Shade (revival), Harold Prince's production of Show Boat, as well as Shenendoah and On The Twentieth Century, each of which garnered him Tony Awards for Best Actor in a Musical. John's non-musical credits include Hamlet, where he played Laertes to Richard Burton's Hamlet, as well as Deathtrap, Private Lives, How The Grinch Stole Christmas, Casa Valentina, and August: Osage County. During the run of that show, John accepted The Keen company's invitation to star in Heroes, so at the age of 80, he performed 15 shows a week with a brief stop between theaters for dinner: pizza, 2 slices for 99 cents.
Cullum's film and television career has been extensive as well. He played Holling The Bartender in six seasons of "Northern Exposure", had recurring roles in "ER" and "Law & Order: SVU", and "The Middle". His guest credits include "30 Rock", "Unbreakable Kimmy Schmidt", "Madam Secretary", "Mad Men", "The Good Wife", "Nurse Jackie" and "The Blacklist".
John recreated his dazzling performance of Edward Rutledge for the film of 1776. His other film credits include Hawaii, Inherit The Wind, Kill Your Darlings, The Day After, Sweet Country, Held Up, and most recently, Jungleland.
John has been married for more than 60 years to Emily Frankel, a prominent choreographer and writer. At 91, his passion for acting has not dimmed, and he continues to entertain audiences, and inspire his younger colleagues