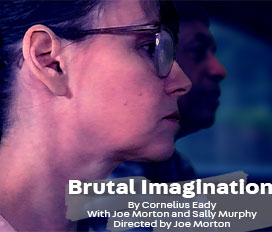 Brutal Imagination Original Cast Reading
By Cornelius Eady
With Joe Morton and Sally Murphy
Streaming Production Concept by Joe Morton
Video Design and Editing by Jared Mezzocchi
Directed by Joe Morton
Oppenheimer Award-winning playwright and poet Cornelius Eady, and renowned actors Joe Morton and Sally Murphy, reunite for Eady's play Brutal Imagination, twenty years after first premiering at The Vineyard in 2001. A potent examination of racial attitudes in America, Brutal Imagination is based on Eady's poem cycle exploring the notorious 1994 incident in which a white woman, Susan Smith, from South Carolina, claimed that a Black man had kidnapped her children. The FBI searched for the man until Smith confessed that she had invented the Black man and had drowned her children. Brutal Imagination, two voices inside one consciousness, brings this invented man to life. Directed by Joe Morton, this digitally staged reading includes imaginative video design by Jared Mezzocchi.
Joe Morton shares, "One of the things that sparked coming back to Brutal Imagination was the Amy Cooper incident when she was using race and the police department as a weapon against a man who was actually doing her no harm. It reminded Cornelius and I about what this play is about."
"We hope this play will be part of discussions about how we imagine or try to imagine what a future, a multicultural future, looks like," says Cornelius Eady. "That to me is the heart of the struggle. This is part of the push that is going on. And the arts are part of this push…you have to imagine it before you can walk into it."
The cast and creatives dive into why Brutal Imagination is as significant now as it was 20 years ago, and what they hope people will take away from the show in 2021. WATCH NOW!


"A VIVID THEATRICAL EXPERIENCE!" — Michael Kuchwara, Associated Press
The original Vineyard world premiere production was directed by Diane Paulus, with original music by Diedre L. Murray. Original casting director, Cindy Tolan.
Artists
Jared Mezzocchi
Jared Mezzocchi is an Obie award winning director and multimedia designer, playwright, and actor. Mezzocchi's work spans the United States at notable theaters such as: The Kennedy Center, Geffen Playhouse, Arena Stage, Woolly Mammoth Theatre Company, Cornerstone Theater Company, Portland Center Stage at The Armory, South Coast Repertory, HERE Arts Center, and 3LD. In 2016, he received the Lucille Lortel and Henry Hewes Award for his work in Qui Nguyen's Vietgone at the Manhattan Theatre Club. In December of 2020, The New York Times highlighted Jared on a list of the top 5 national artists making an impact during the pandemic. His digital performance work was also celebrated as a 2020 New York Times Critic's Pick on Sarah Gancher's Russian Troll Farm where it was praised for being one of the first digitally native successes for virtual theater. In Spring 2021, Jared wrote and starred in Someone Else's House, directed by Margot Bordelon, a ghost story centered around actual events with his family. This production was an 11 week run, performed live online each night to audiences all over the world. His book, A Multimedia Designer's Method to Theatrical Storytelling, will be released in Spring 2021/22 through Routledge Publishers. He is a two-time MacDowell Artist Fellow, a Princess Grace Award winner, and is the Artistic Director of Andy's Summer Playhouse. Jared is an Associate Professor at the University of Maryland and the CEO of his production company, Virtual Design Collective (ViDCo).
Cornelius Eady
Cornelius Eady is a poet, playwright and musician born in Rochester, NY. He is Co-Founder of Cave Canem and is Professor of English, and Chair of Excellence in Poetry at the University of Tenn. Knoxville. He is the author of several poetry collections, including Victims of the Latest Dance Craze, winner of the Lamont Prize; The Gathering of My Name, nominated for the Pulitzer Prize in Poetry; Hardheaded Weather and Brutal Imagination, a finalist for The National Book Award in Poetry. He has collaborated with jazz composer Deidre Murray in the production of several works of theater, including You Don't Miss Your Water, Running Man, a finalist for the Pulitzer Prize in Drama in 1999, Fangs, and Brutal Imagination, which received The Oppenheimer Award. His awards include Fellowships from the NEA, the Guggenheim Foundation and the Rockefeller Foundation, and he was The Miller Family Endowed Chair in Literature and Writing and Professor in English and Theater at The University of Missouri-Columbia.
Sally Murphy
Sally Murphy has appeared extensively on Broadway, and in film and television. Her many Broadway credits include The Minutes, August: Osage County, Linda Vista, The Wild Party, Fiddler on the Roof, The Grapes of Wrath and Lincoln Center's Carousel, where she starred as Julie Jordan. Sally has appeared Off Broadway in various productions at The Public Theater, Atlantic Theater, Signature Theatre, Encores! and Vineyard, among others. Sally is a member of Chicago's Steppenwolf Theatre Company where she has appeared many times, and has also performed at London's National Theatre and in Berlin, Vienna and Sydney. Her film and television credits include "Succession", "Chicago Med", "LAW & ORDER SVU", "The Good Wife", "Scent of a Woman", Fearless, If These Walls Could Talk and Pollock. Recently she appeared in three new Apple Plays by Richard Nelson, performed on Zoom. Sally resides in New York City and is a graduate of Northwestern University.
Joe Morton
Joe Morton is an Emmy® Award-winning film, television and stage veteran, best known as "Rowan/ Eli Pope" in Shonda Rhimes' groundbreaking series "Scandal." He most recently starred as 'Reverend Arthur Finer' on the series "God Friended Me" and recurs on "The Politician." Morton is also known for his iconic roles in films The Brother From Another Planet, Terminator 2: Judgement Day, Justice League, and Speed, among many others. Morton made his Broadway debut in the Tony® Award-winning musical Hair, followed by his starring role in Raisin, for which he garnered a Tony nomination and Theatre World Award. In 2016, Morton returned to his theater roots portraying the iconic comedian Dick Gregory in the one-man show Turn Me Loose Off-Broadway and was honored with the NAACP Theatre Lifetime Achievement Award. He reprised his role in Turn Me Loose at The Wallis-Annenberg Center for the Performing Arts in fall 2017.