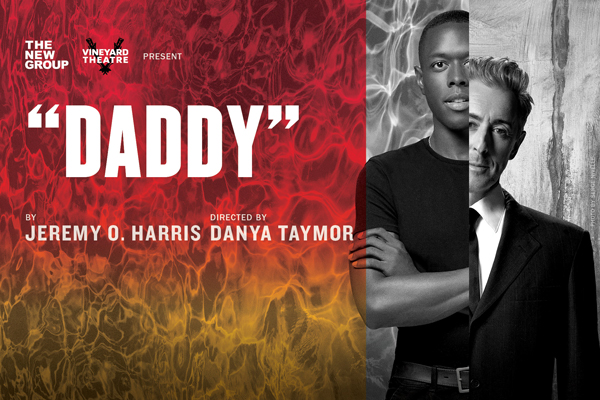 "DADDY"
By Jeremy O. Harris
Directed by Danya Taymor
With Carrie Compere, Alan Cumming, Tommy Dorfman, Kahyun Kim, Denise Manning, Hari Nef, Onyie Nwachukwu, Ronald Peet, Charlayne Woodard
A co-production with The New Group

World Premiere | February 13 - March 31, 2019
In Jeremy O. Harris' searing new play "Daddy," Franklin (Ronald Peet), a young black artist on the verge of his first show, meets Andre (Alan Cumming), an older white art collector, and before long their feverish link deepens into an irresistible bond. But when Franklin's Christian mother, Zora (Charlayne Woodard), decides that her son is in peril, she enters into a battle of wills with Andre over the soul of the man they both call baby. Basquiats and Birkins, gospel and pop, and fantasy and reality collide around a Bel Air swimming pool in this deeply surreal exploration of intimacy and identity. Danya Taymor (PASS OVER) directs this wildly theatrical and dangerous world-premiere play by the recipient of The Vineyard's 2018 Paula Vogel Playwriting Award, in a co-production from Vineyard Theatre and The New Group.
---
This play contains nudity and graphic sexual content.
---
Presented in the Romulus Linney Courtyard Theatre at The Pershing Square Signature Center (480 West 42nd Street).
---
"Daddy" is supported by grants from the Tobin Theatre Arts Fund and the Venturous Theatre Fund of the Tides Foundation.
Artists
Matthew Frew
(Properties Supervisor). With The New Group: THE TRUE, GOOD FOR OTTO, DOWNTOWN RACE RIOT, THE WHIRLIGIG, EVENING AT THE TALK HOUSE, SWEET CHARITY, BURIED CHILD, STEVE, MERCURY FUR, THE SPOILS, RASHEEDA SPEAKING, STICKS AND BONES, ANNAPURNA, INTIMACY, THE JACKSONIAN, RUSSIAN TRANSPORT. Select Off-Broadway: YEN, PERMISSION, THE MONEY SHOT (MCC Theater); WAR (LCT3); FUN HOME (The Public Theater); LOVE AND INFORMATION (NYTW). Other New York theatre: NYCC, Cherry Lane Theatre, NYSF, Rattlestick Playwrights Theater, Atlantic Theater Company, TFANA. Recipient of National Award for Excellence in Properties Design from The Kennedy Center and USITT Chesapeake Award for Theatrical Design. Owner of The Grey Area, Prop Design, Fabrication and Supervision in Brooklyn, NY.
Judy Henderson
Judy Henderson, CSA is honored as one of the top 20 U.S. film casting directors. Highlights include Emmy Award, Outstanding Casting in a Drama Series; five Artios Awards, Outstanding Achievement TV Series and Theatre Drama Casting; ten Artios nominations for TV Series and Theatre Drama Casting. Select films: Before Midnight, Before Sunset, Before Sunrise, Mapplethorpe, 12 and Holding, L.I.E. (six Independent Spirit Award nominations). Select TV: "Homeland" (Showtime, Emmy and two Artios). Broadway: BAREFOOT IN THE PARK, ANNA KARENINA (four Tony nominations). Off-Broadway: INVASION (Obie), LIE OF THE MIND (Artios), THE KID (five Drama Desk nominations), HURLYBURLY (Artios). She has been The New Group's casting director from the beginning.
Nicole Iovino
Nicole is excited to be in her fifth season with The New Group as the assistant stage manager, after previously interning on productions such as CLIVE and THE JACKSONIAN. Recently, Nicole has worked on THE TRUE, PEACE FOR MARY FRANCES, GOOD FOR OTTO, DOWNTOWN RACE RIOT, THE WHIRLIGIG, EVENING AT THE TALK HOUSE, SWEET CHARITY, BURIED CHILD, STEVE, MERCURY FUR, THE SPOILS, RASHEEDA SPEAKING, and STICKS AND BONES while working for The New Group.
Tschabalala Self
Her work has been exhibited domestically and internationally, at public institutions such as the Studio Museum in Harlem; the New Museum, New York; Crystal Bridges, Bentonville, A.R.; Parasol unit foundation for contemporary art, London, U.K.; and Tramway, Glasgow, U.K. She is a recipient of the Yale School of Arts Al Held Fellowship at the American Academy in Rome and Joan Mitchell Foundation Grant, and of residencies at the Studio Museum in Harlem and Parasol Unit. Self's work is also in several public collections, including the Pérez Art Museum, Miami, FL and the Hammer Museum, Los Angeles, CA.
Valerie A. Peterson
Valerie has worked on over 75 productions here including THE TRUE; PEACE FOR MARY FRANCES; GOOD FOR OTTO; DOWNTOWN RACE RIOT; THE WHIRLIGIG; EVENING AT THE TALK HOUSE; SWEET CHARITY; THE SENSUALITY PARTY; BURIED CHILD; STEVE; MERCURY FUR; THE SPOILS; RASHEEDA SPEAKING; STICKS AND BONES; ANNAPURNA; INTIMACY; THE JACKSONIAN; BUNTY BERMAN PRESENTS…; A LIE OF THE MIND; THE KID; THINGS WE WANT; RAFTA, RAFTA…; MARIE AND BRUCE; ABIGAIL'S PARTY; HURLYBURLY; and AUNT DAN AND LEMON. Broadway: BAREFOOT IN THE PARK and THE WOMEN.
Claire Warden
Co-leader of the intimacy direction movement across the industry. Claire consults for and intimacy coordinates on numerous televisions networks, including HBO, as well as independent films. Intimacy and fight director of SLAVE PLAY (NYTW), BLKS (MCC Theatre), MIES JULIE (CSC), O WAR (Muhlenberg Theatre) and others both in New York and regionally. Claire trains faculty and students in acting training institutions across the country, including Yale, NYU, Juilliard, Columbia, the O'Neill Theatre Center, Shakespeare & Company, Cambridge University (U.K.) and Northeastern University. She is part of the teaching team of Intimacy Directors International, training the next generation of Intimacy Directors. teamidi.org, clairewarden.com
Brett Macias
Music direction: NJPAC, NYU, Webster University, University of Colorado-Boulder and Musical Theatre Factory. Composer: Webster University, Encores! (NYC), Stephens College, Prospect Theater Company, Repertory Theater of Saint Louis and Masterworks. His musicals, TUESDAY and GUMBO, have been selected for development and productions by the Yale Institute for Musical Theater, Mainstreet Musicals Festival, ASCAP/Grow a Show, New York Musical Festival: Next Link Project, Musical Theatre Factory, Coastal Carolina University, CAP 21 and The PiTCH. Concerts of his music were produced by Lincoln Center Theater, Vitello's and The Cutting Room. brettmacias.com
Darius Smith
Off-Broadway: THIS AIN'T NO DISCO, FUTURITY, THREE LITTLE BIRDS. Off-Off-Broadway: RAISIN (AUDELCO Award Outstanding Music Direction). Regional: THE COLOR PURPLE (Portland Center Stage, Broadway World Regional Award Outstanding Music Direction), THE WIZ (Ford's Theater), NINA SIMONE: FOUR WOMEN (Arena Stage, Helen Hayes nomination Outstanding Music Direction), JELLY'S LAST JAM (Signature Theatre, Helen Hayes nomination Outstanding Music Direction), CHOIR BOY (Marin Theatre Co., Bay Area Theatre Critics Circle Award Outstanding Music Direction). UPCOMING: WATSONS GO TO BIRMINGHAM (The Kennedy Center), A STRANGE LOOP (Playwrights Horizons).
Isabella Byrd
(Lighting Design). LIGHT SHINING IN BUCKINGHAMSHIRE (New York Theatre Workshop); SEASCAPE (A.C.T. San Francisco); THE THANKSGIVING PLAY (Playwrights Horizons); THE HELLO GIRLS (Prospect Theater Co./59E59 Theaters); THE SLOW ROOM (Annie Dorsen); MEMBER OF THE WEDDING, ARTNEY JACKSON (Williamstown Theatre Festival); PLANO (Clubbed Thumb). Humana Festival 2018: DO YOU FEEL ANGER?, GOD SAID THIS, ANGELS IN AMERICA (co-design, all at Actors Theatre of Louisville); SUNDOWN YELLOW MOON (Ars Nova/WP Theater). Other regional: People's Light, Portland Center Stage, City Theatre Pittsburgh. Upcoming: Manhattan Theatre Club and PigPen Theatre Co. at The Old Globe. isabellabyrd.design
Montana Levi Blanco
(Costume Design). The New Group and Vineyard Theatre debut. Off-Broadway: HE BROUGHT HER HEART BACK IN A BOX (Obie Award, TFANA); THE DEATH OF THE LAST BLACK MAN… (Lucille Lortel nom.); FABULATION, IN THE BLOOD (Signature Theatre); FAIRVIEW, IS GOD IS (Soho Rep); THE HOUSE THAT WILL NOT STAND, RED SPEEDO, NAT TURNER IN JERUSALEM (NYTW); PIPELINE (Lincoln Center Theater); GHOST LIGHT, WAR (LCT3); EDDIE & DAVE (Atlantic Theater Company); THE LAST MATCH (Roundabout Theatre Company); O, EARTH (The Foundry Theatre). Regional: LEMPICKA (Williamstown Theatre Festival); LA RONDINE (Minnesota Opera); THE BLUEST EYE (Guthrie Theater); ANGELS IN AMERICA, AN OCTOROON (Berkeley Rep). Training: Oberlin Conservatory of Music, Oberlin College, Brown University and the Yale School of Drama. montanaleviblanco.com
Matt Saunders
Recent Off-Broadway work: PIPELINE (LincolnCenter Theater), VENUS (Signature Theatre), THUNDERBODIES (Soho Rep), FUTURITY (SohoRep and Ars Nova), GOOD PERSON OF SZECHWAN(The Foundry Theatre and The Public),THE TEMPEST (The Public Theater/Delacorte).Over 100 regional credits including Guthrie Theater, Mark Taper Forum, Huntington Theatre Company, Long Wharf Theatre, Berkeley Rep, Yale Rep, Actor's Theatre of Louisville, Children's Theatre Company in Minneapolis, Wilma Theater. Training: MFA, Yale School of Drama. Saunders is a Pew Fellow in the Arts and a Hodder Fellow at Princeton University. Associate Artistic Director of New Paradise Laboratories. Assistant Professor of Design at Swarthmore College. mattsaunders.net
Onyie Nwachukwu
Onyie Nwachukwu makes her debut with The New Group and Vineyard Theatre in "DADDY."  Her previous work includes the CIRQUE DREAMS national tour as well the role of Joanne in the national tour of RENT.  Most recently she could be seen in MOTOR CITY LIVE at Hard Rock Atlantic City/MGM National Harbor.  Other credits include regional productions such as the Boston premiere of PRISCILLA, QUEEN OF THE DESERT and workshops/cabarets/concerts in and around New York City.
Denise Manning
Denise Manning is an Actor-vist, Comic, and Musician from Austin, Texas. Her recent credits include WHAT TO SEND UP (Aleshea Harris/NY Times Critics' Pick; Movement Theatre Company), THE CHRONICLES OF CARDIGAN AND KHENTE (Soho Rep), WHITE GIRL IN DANGER! (Vineyard) and Whitney White's THREE SISTERS (Drama League/Directorfest). She is so grateful to The New Group, Vineyard Theatre and Jeremy O. Harris for this amazing opportunity. ig: denise_manning  #blacklivesmatter 
Carrie Compere
On Broadway, Carrie played (Sofia) in THE COLOR PURPLE, and on the National Tour including The Paper Mill Playhouse. Also: THE GOLDEN APPLE(Lovey Mars/The Siren), and HOLLER IF YA HEAR ME, SHREK THE MUSICAL. Off-Broadway: THE LIGHTNING THIEF (Sally Jackson), SISTAS, LORD TOM, SMOKEY JOE'S CAFE (TUTS), SHOW BOAT: LIVE FROM LINCOLN CENTER. TV: "Seven Seconds", "NYC 22", "Gurland on Gurland."
Charlayne Woodard
Charlayne Woodard is a two-time Obie winner, Tony Award nominee. Broadway: AIN'T MISBEHAVIN'. Off-Broadway:
HAMLET (Gertrude); WAR; (Mother); THE SUBSTANCE OF FIRE, (Marge Hackett); THE WITCH OF EDMONTON, (Witch); IN THE BLOOD, (Hester); FABULATION, (Ondine); STUNNING; SORROWS AND REJOICINGS; THE CAUCASIAN CHALK CIRCLE, (Grusha); TWELFTH NIGHT, (Maria). Her Regional credits include: A MIDSUMMER NIGHT'S DREAM (Titania); THE TAMING OF THE SHREW (Katherine). Film: Glass,
Unbreakable, The Crucible, Eye for an Eye, Sunshine State. TV: "POSE" (series regular), "Sneaky Pete," "The Leftovers," "Law & Order: SVU." Guest Faculty: Cal Arts, USC. Training: The Goodman School of Drama.
Danya Taymor
Danya Taymor (Director) is a New York-based director and translator. Recent work: Jeremy O. Harris' "Daddy" (The Vineyard, The New Group), Danai Gurira's FAMILIAR (Steppenwolf), Antoinette Nwandu's PASS OVER (LCT3/Steppenwolf), Martyna Majok's QUEENS (LCT3), Justin Kuritzkes' THE SENSUALITY PARTY (The New Group), Nathan Yungerberg's ESAI'S TABLE (Cherry Lane Mentor Project), Brian Watkins' WYOMING (Lesser America) and MY DAUGHTER KEEPS OUR HAMMER, Sarah Gancher's THE PLACE WE BUILT and LEGOM's I HATE FUCKING MEXICANS (The Flea). Her production of Antoinette Nwandu's PASS OVER (Steppenwolf) was filmed by Spike Lee and premiered at the 2018 Sundance Film Festival. An alumna of the Women's Project Lab, Sundance Theatre Lab, Lincoln Center Theater Directors Lab, Van Lier Fellowship and the 2050 Fellowship at NYTW. She is a Usual Suspect at NYTW, an artist in residence at TFANA, a member of Ensemble Studio Theatre an associate artist at The Flea, and a recipient of the Cullman Award for Extraordinary Creativity from Lincoln Center. Education: Duke University.
Ronald Peet
Ronald Peet stars as Cooper in Netflix's upcoming series "The I-Land" (with Kate Bosworth, Natalie Martinez and Alex Pettyfer). Film: The Land of The Owls, The Meyerowitz Stories, First Reformed, Nevada. TV: "The Looming Tower," "Bull," "Blindspot" and "Girls." Recent appearances on the New York Stage include SPILL (EST), CUTE ACTIVIST (The Bushwick Starr), KENTUCKY (EST/P73), ICARUS ON THE LES (Joe's Pub), THE WORLD MY MAMA RAISED (Clubbed Thumb), DEBUTANTE (Ars Nova). Regional: THE LION IN THE WINTER (Two River Theater), PEERLESS (Barrington Stage Company/Miami New Drama); THE GOLEM OF HAVANA (Barrington Stage/Miami New Drama) and over 30 roles in 15 productions with The American Shakespeare Center. Member of Ensemble Studio Theatre and graduate
of NYU's Tisch School of the Arts.
Hari Nef 
Hari Nef is an actor, writer and model. Nef starred in the Emmy Award-winning series "Transparent" and most recently
made her feature film debut in NEON's Assassination Nation. She also appeared in Lifetime's "You" and HBO's "Camping" and starred in the 2017 miniseries "Let Me Die a Nun," which was nominated for a Gotham Award. Nef graduated with a Theatre degree from Columbia University.
Kahyun Kim
Kahyun Kim recently wrapped a major role on the upcoming season two of the hit STARZ series, "American Gods." Born and raised in South Korea, Kahyun moved to the United States and was immediately accepted into Juilliard's Drama School. TV credits include "Shameless" (Showtime), "Timeless" (NBC), "Adam Ruins Everything" (TruTV), "The Mysteries of Laura" (NBC), "Austin & Ally" (Disney) and "Cassandra French" (Fullscreen). Film credits include Bad Match (Netflix), Spa Night (Sundance Premiere) and the Disney reboot of Freaky Friday. Theatre credits include LOVE AND MONEY (Signature Theatre) and a starring role in Tracy Letts' LINDA VISTA (Steppenwolf Theatre). Kahyun currently lives in Los Angeles.
Jeremy O. Harris
Full length plays include: "DADDY" (Vineyard Theatre/The New Group) SLAVE PLAY (New York Theatre Workshop, New York Times Critics' Pick, winner of the 2018 Kennedy Center Rosa Parks Playwriting Award, the Lorraine Hansberry Playwriting Award and The Lotos Foundation Prize), XANDER XYST, DRAGON: 1 and WATER SPORTS; OR INSIGNIFICANT WHITE BOYS (2019, 53rd State Press). In 2018, Jeremy co-wrote A24's upcoming film Zola with director Janicza Bravo. He is the 11th recipient of Vineyard Theatre's Paula Vogel Playwriting Award, a 2016 MacDowell Colony Fellow and is under commission from Lincoln Center Theater, Playwrights Horizons and Scott Rudin Productions. Jeremy's in his third year at the Yale School of Drama.
Tommy Dorfman
Tommy Dorfman was born in Atlanta, GA. They grew up performing as a ballet dancer with the Atlanta Ballet before studying acting at Fordham University, after which they began their acting career playing Ryan Shaver in Netflix's "13 Reasons Why." Dorfman's upcoming projects include Jenji Kohan's new series "American Princess" and
the final season of "Jane the Virgin." In 2017, they were awarded the Rising Star Award from GLAAD. This is their first play.
Alan Cumming
Alan Cumming has worked extensively in theatre, TV, film and new media for the past 35 years as a performer, writer,
producer and director. He is the author of five books, has performed in concert halls across the globe and also owns a bar, Club Cumming. Find out more at alancumming.com
Lee Kinney
(Sound Design) Vineyard Theatre: "Daddy", CAN YOU FORGIVE HER?. Other NY: SUNDAY (Atlantic), THOM PAIN (Signature), THE LIGHT YEARS (Playwrights Horizons), HOMOS (Labyrinth), A DOLL'S HOUSE, THE FATHER (TFANA); OPPORTUNITIES OF EXTINCTION, THE CONVENT OF PLEASURE (Cherry Lane); THE TOMB OF KING TOT (Clubbed Thumb). Regional: Weston Playhouse, Playmakers Rep, Long Wharf, People's Light, Idaho Shakespeare, Great Lakes. Thanks to Kris. @thisisleekinney
Cookie Jordan
Broadway: CHOIR BOY, THE CHER SHOW, ONCE ON THIS ISLAND, SUNDAY IN THE PARK WITH GEORGE, IN TRANSIT, ECLIPSED, SIDE SHOW, AFTER MIDNIGHT, FELA, A VIEW FROM THE BRIDGE, SOUTH PACIFIC. Off-Broadway: BOSEMAN AND LENA, FABULATION, OUR LADY OF 121st STREET, IN THE BLOOD, THE DEATH OF THE LAST BLACK MAN IN THE WHOLE ENTIRE WORLD (Signature Theatre); TWELFTH NIGHT, A MIDSUMMER NIGHT'S DREAM, TROILUS AND CRESSIDA (Shakespeare in the Park); AN OCTOROON, IS GOD IS, FAIRVIEW (Soho Rep). Television: Emmy nominated for make-up design for "The Wiz Live."
Darrell Grand Moultrie
A recipient of the Princess Grace Choreography Fellowship Award, Moultrie's select credits include SUGAR IN OUR WOUNDS (MTC), INVISIBLE THREAD (Second Stage Theater), EVITA (Kansas City Rep), WITNESS UGANDA (American Repertory Theatre), EL PUBLICO (Teatro Real; Madrid, Spain). Darrell's work has been performed by ballet and modern companies throughout the United States and around the world. Moultrie was selected by Grammy Award winning artist Beyoncé as a choreographer on her record-breaking Mrs. Carter Show world tour. A proud New Yorker, born and raised in Harlem, Moultrie is a graduate of LaGuardia High School and The Juilliard School.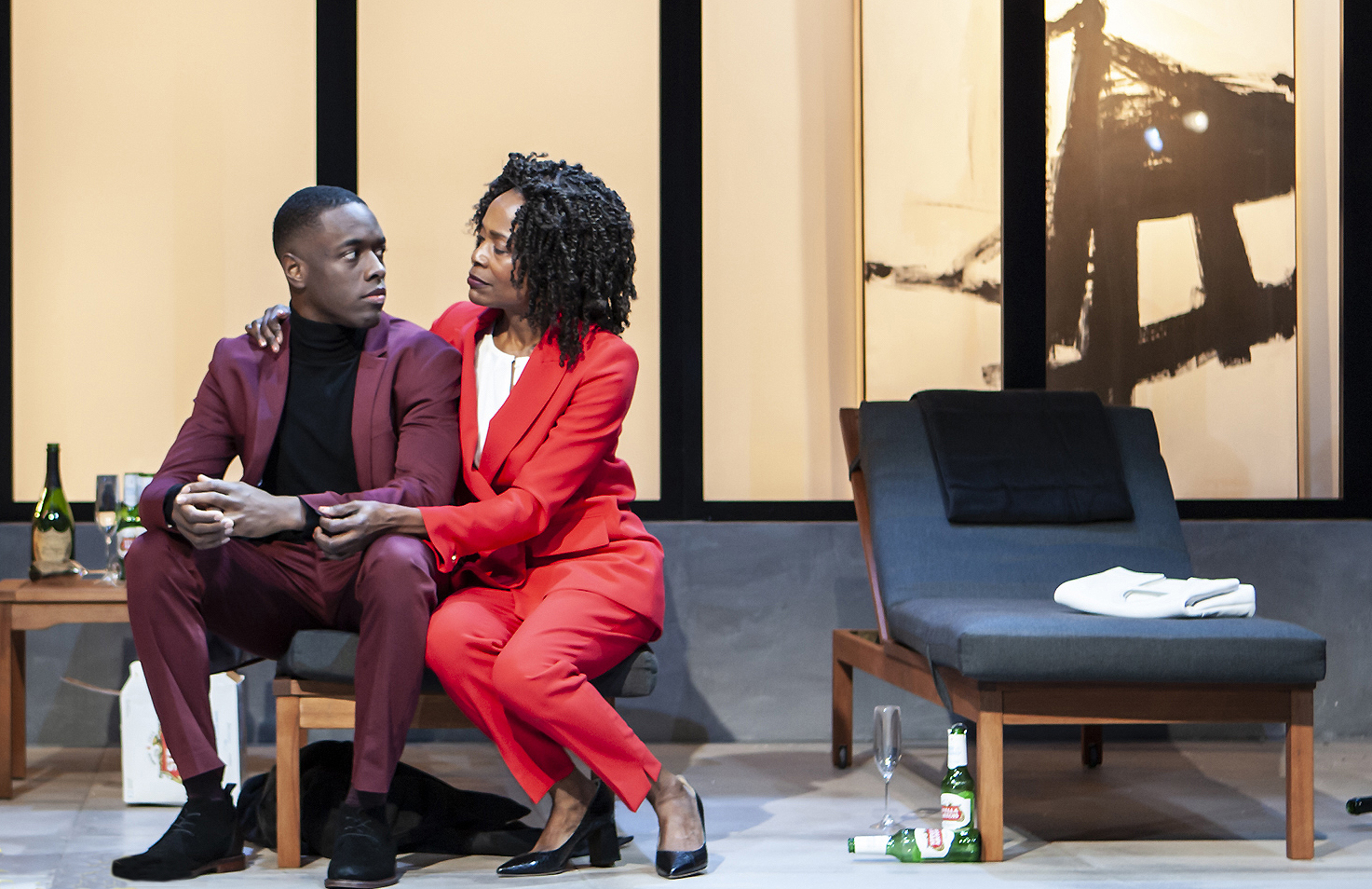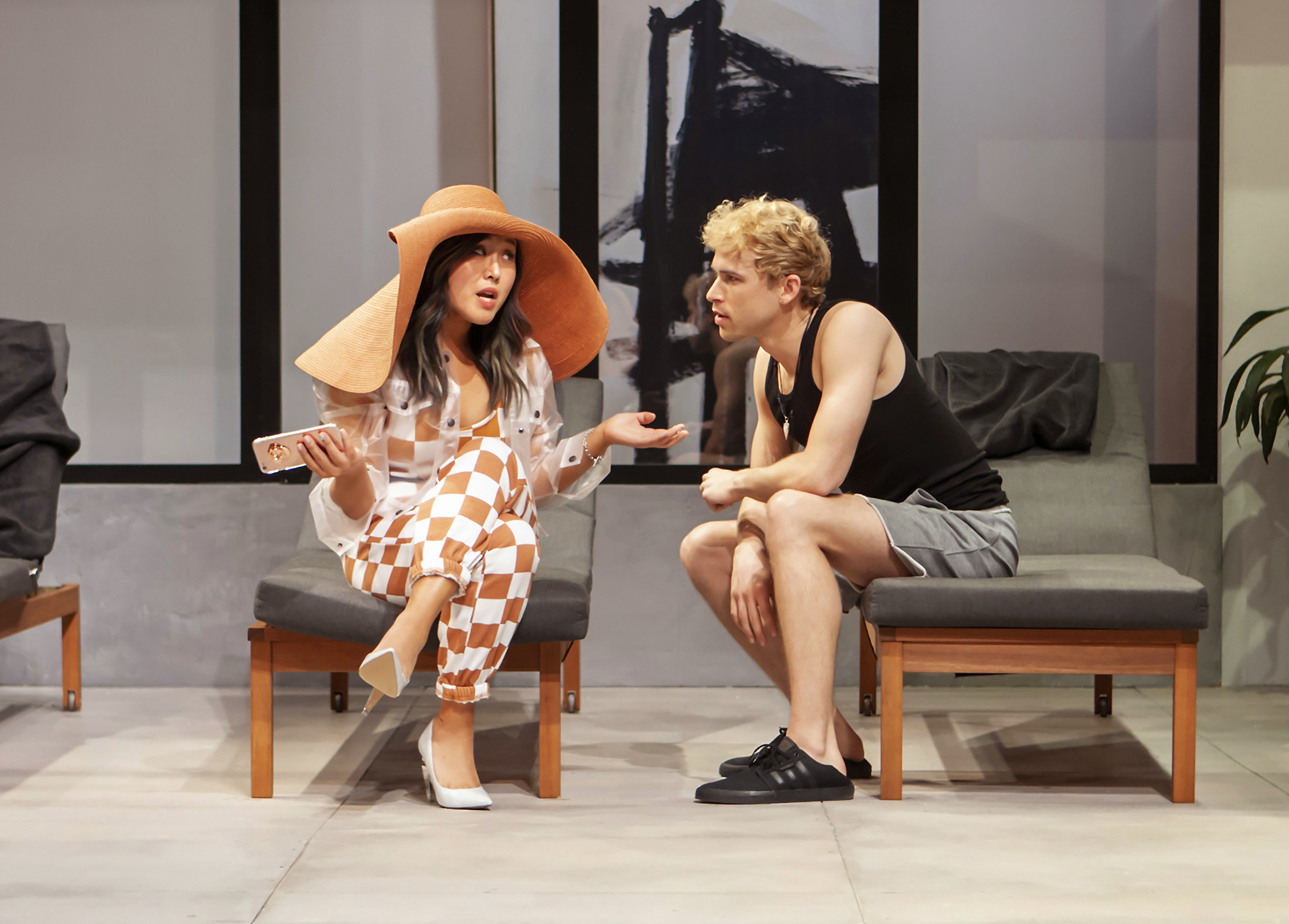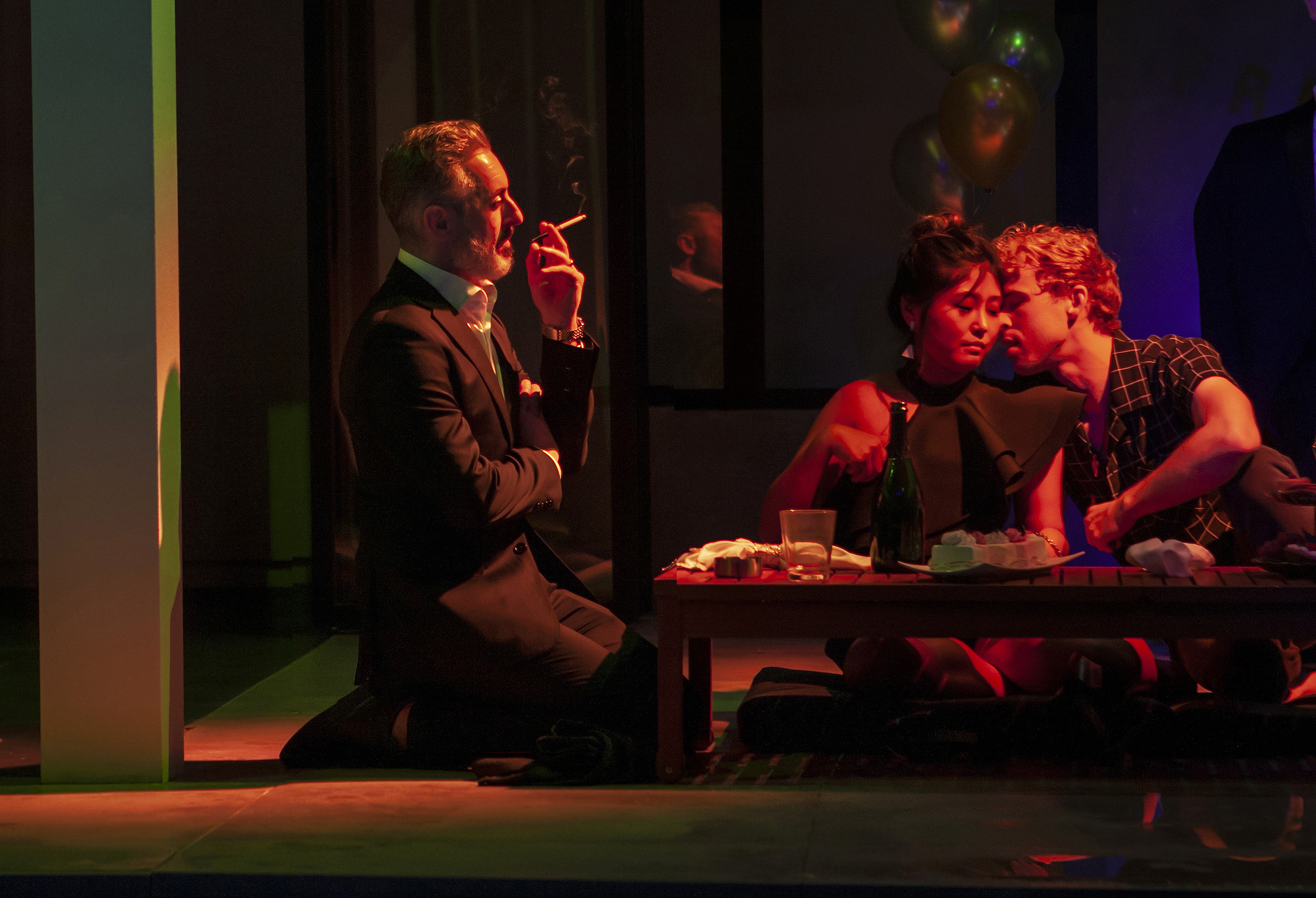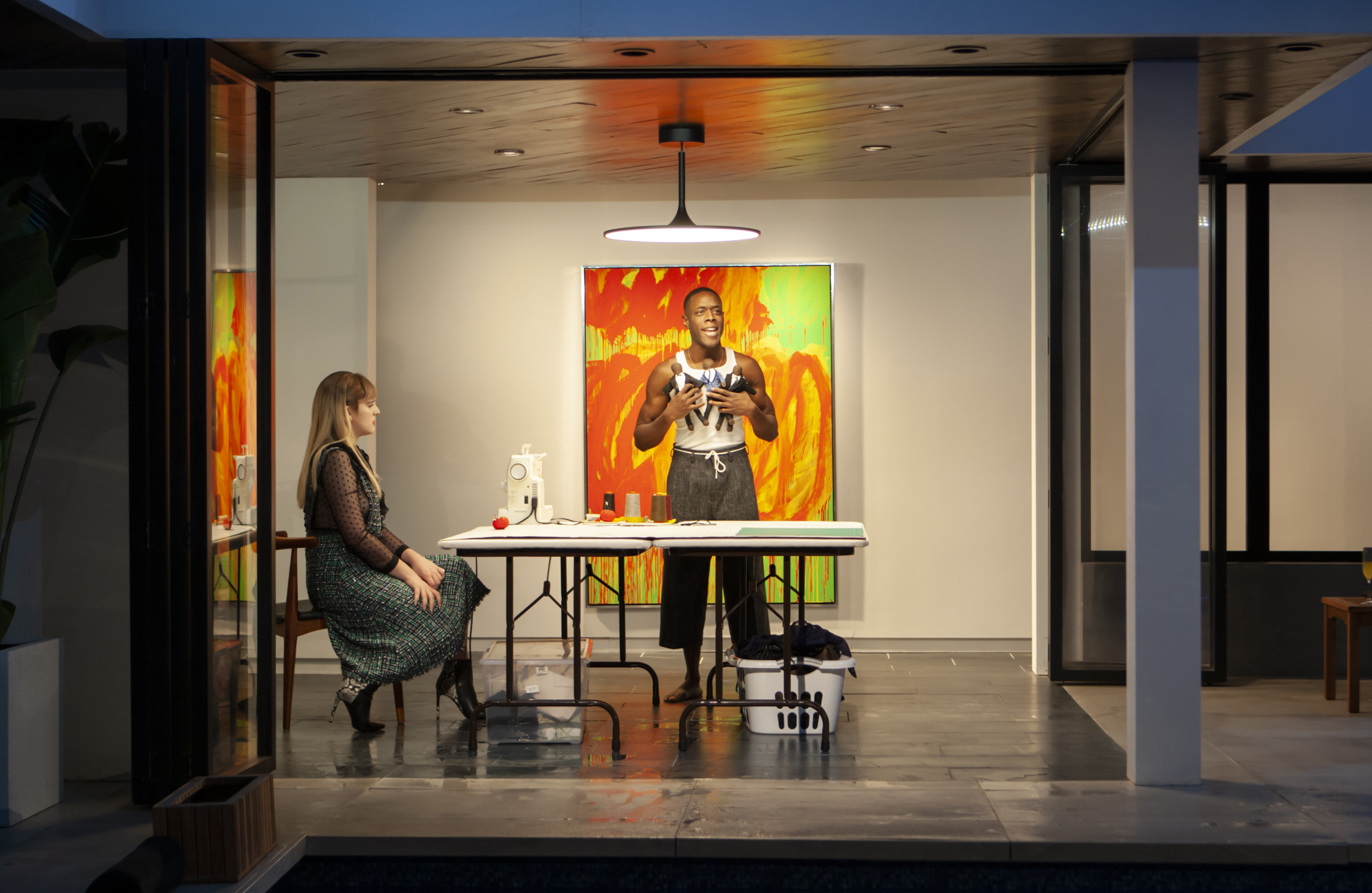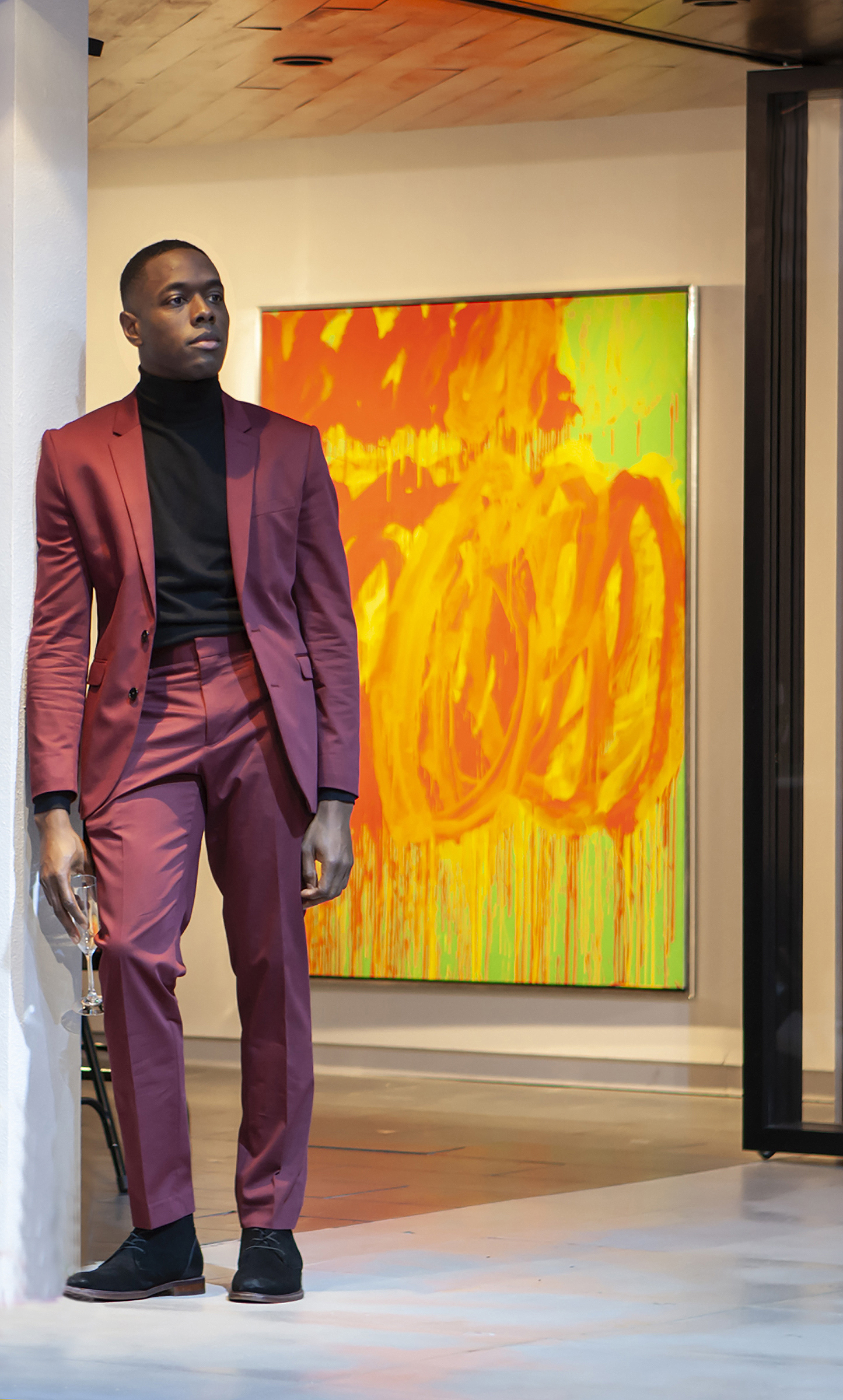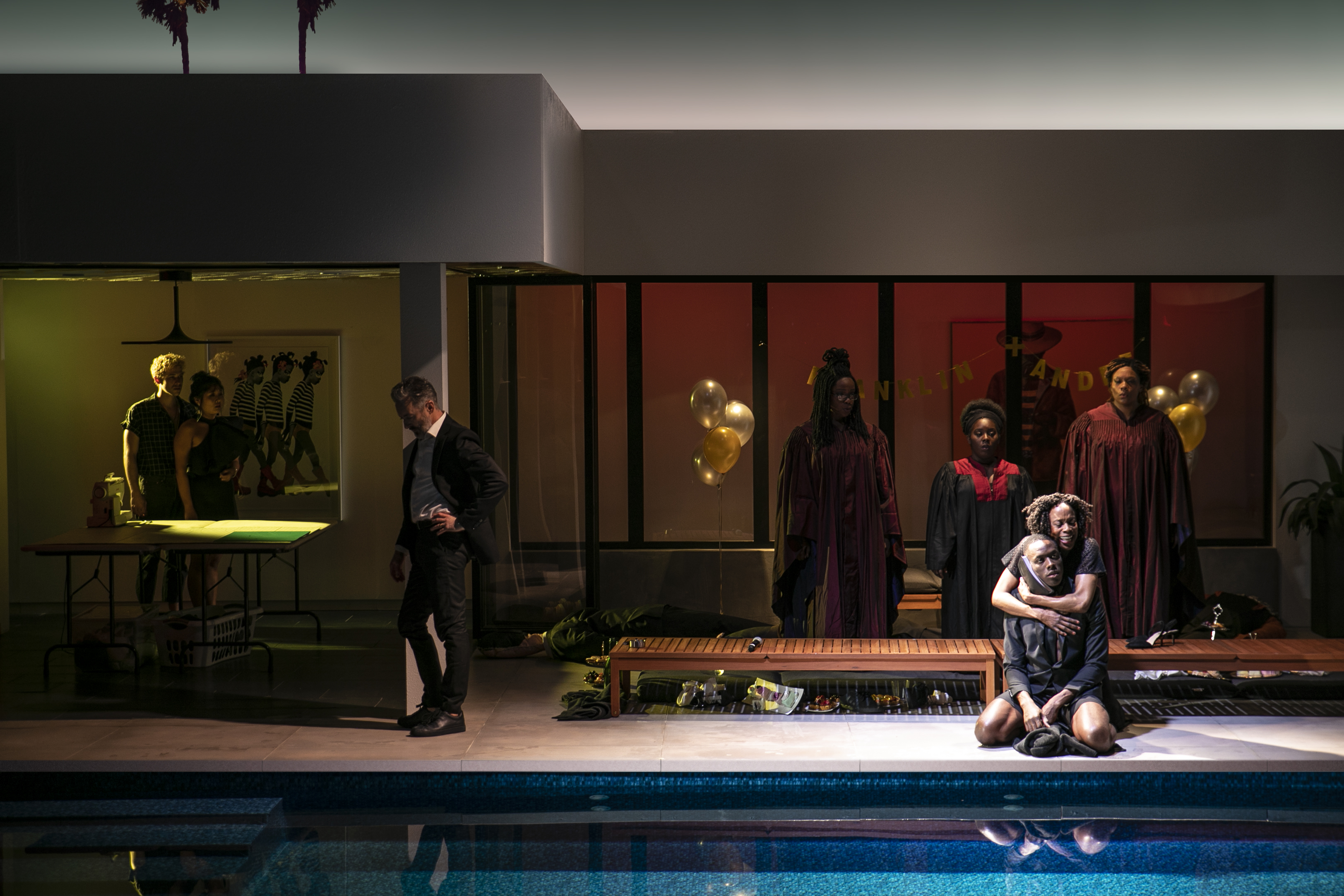 Reviews
"A provocatively brilliant, brilliantly provocative, new play. Impeccable cast."
— Barbara Schuler, Newsday
---
"A BRILLIANT NEW PLAY! MAGNIFICENT. WE MIGHT BE LIVING THROUGH A GOLDEN AGE OF NEW AMERICAN PLAYS.
Set designer Matt Saunders's rendition of a Bel-Air manse and pool mesmerizes. In a remarkable performance, Cumming never loses his vampire cool. Peet's performance takes this young man to a place that the Edward Albee of "The American Dream" would fully appreciate." — Robert Hofler, The Wrap
---
""DADDY" IS AN IMPORTANT, MUST-SEE WORK.
With its trenchant inquiry into black and white relationships and the historical dynamics that influence them, the play packs a wallop. A safe place for uncomfortable discussions about race in America."
— Pete Hempstead, TheaterMania
---
"SMART AND GRIPPING.
Alan Cumming leads superb cast in provocative melodrama. Charlayne Woodard and Ronald Peet are transfixing. A stunning performance from Woodard. "Daddy" makes for highly compelling theater, exploring issues of race, sexual identity and contemporary art while remaining grounded in a dramatic power struggle."
— Matt Windman, AMNY
---
"BRILLIANT! THERE IS NOTHING AS INVOLVING AND THOUGHT-PROVOKING ON THE NEW YORK STAGE RIGHT NOW."
— Tim Teeman, Daily Beast
---
""DADDY" IS A THEATRICAL ACHIEVEMENT OF THE HIGHEST DEGREE;
a bold, experimental, political, and important work of theater that will not soon be forgotten. It is a perfect example of the power of theater and is the exact embodiment of the type of art we should be making right now. Gripping, modern, and powerfully political. Here, as in SLAVE PLAY, [Harris] deals with themes of race and sexuality in a hauntingly trenchant manner. The writing, acting, direction, design, and music are all flawless and combined they create a work that is nothing short of a masterpiece."
— Christian Lewis, Medium
---
"MY HEART BELONGS TO "DADDY." AN AMBITIOUS, INTELLIGENT, AND IN-YOUR-FACE PROVOCATIVE PLAY,"MY HEART BELONGS TO "DADDY." AN AMBITIOUS, INTELLIGENT, AND IN-YOUR-FACE PROVOCATIVE PLAY,
rendered astonishing under the direction of Danya Taymor and the terrific performances of its cast."
—Jonathan Mandell, New York Theater
---
""DADDY" IS INVIGORATING, PROVOCATIVE, AND OFTEN WILDLY ENTERTAINING.
A surfeit of cunning insight — on art, sex, power, faith, subjectivity, and coming of age from the margins — is far more than one can reasonably expect from even the most established and revered playwrights in American theatre, much less one who's not yet out of graduate school. Fortunately for us, [Harris] is just getting started."
—Naveen Kumar, Towleroad
---
""DADDY" HAS SOME OF THE MOST MEMORABLE MOMENTS AND EXCHANGES YOU'LL SEE AND HEAR ON STAGE THIS YEAR.
There can be no denying Harris' gifts as a writer. An extremely bold first-class
production under the inventive direction of Danya Taymor. Tommy Dorfman makes a fine stage debut. Charlayne Woodard is incredibly brilliant."
—Brian Scott Lipton, CitiTour
---
"A searing revelatory peek into the world of dominance, control, human behavior, emotional fragility, religion and art.
Alan Cumming is Intense and remarkable. Charlayne Woodard is outstanding. Hari Nef is electrifying. In the sensitive, skillful and loving hands of director Danya Taymor, the production and performances are impressively real and jolting."
—Sandi Durell, TheaterPizzazz
---
""DADDY" IS AN EXTRAORDINARY PIECE OF STORYTELLING. A MASTERFUL WORK OF ART THAT DEMANDS TO BE SEEN. A MONUMENTAL WORK OF BOLD GENIUS,
a searing, audacious investigation into the creation and ownership of both art and people. Phenomenal staging. Inspirational vocal music and arrangements. Peet makes a major breakthrough as Franklin, giving a brave performance. Cumming is utterly charming as Andre."
—This Week in New York
---
"HARRIS IS A MASTERFUL PROVOCATEUR. HILARIOUS, EXCITING AND SERIOUSLY DISCOMFITING. ANYONE WHO CARES ABOUT THE PULSE OF THEATER OUGHT TO WELCOME HIS ARRIVAL.
He has already marked out distinctive theatrical territory for himself at the radioactive crossroads
of race, sex and pop music. Dazzled by the panache and vision, and yes, the daring, raunchy subversiveness of this new dramatic talent."
—Jonathan Kalb, Theater Matters
---
"JEREMY O. HARRIS IS A REMARKABLE VOICE OF HIS GENERATION. "DADDY" IS WORTH SEEING.
Cumming and Peet are a remarkable pair. Lee Kinney's foreboding original score and sound design punctuates the action with driving intensity. "
—Keith Paul Medelis, Theatre is Easy
---
"HARRIS HAS A VITAL VOICE AND IS A TALENT TO WATCH.
Kahyun Kim in a touching turn, exposes her character's shallowness and vulnerability almost simultaneously."
—David Sheward, TheaterLife.com
---
"HARRIS DOES MORE THAN COLOR OUTSIDE THE BOX — HE REBUILDS THE BOX FROM THE GROUND UP.
All bets are off from the moment this play begins. We are on a rollercoaster ride directly through the hearts of these characters. There is a sort of electricity that these actors create — this is a superb ensemble. A surprising but perfect addition: a gospel choir of some immense talent and strengths."
—Tulis McCall, New York Theatre Guide
---
""DADDY" WILL NOT LEAVE YOUR HEAD FOR A WHILE, NOR WILL THE QUESTIONS THIS PLAY ASKS.
Danya Taymor's direction, is playful, thought provoking and so watchable. The whole cast creates characters who make us laugh, makes us cringe and make us wonder about humanity. Bravo!"
—Suzanna Bowling, Times Square Chronicles
---
Winners
Drama Desk Award
Matt Saunders, Outstanding Set Design of a Play
Montana Levi Blanco, Sam Norkin Off-Broadway Award
Nominations
Lucille Lortel Award
Charlayne Woodard, Outstanding Lead Actress in a Play
Drama Desk Award
Claire Warden, Outstanding Fight Choreography
Tschabalala Self, Outstanding Puppet Design