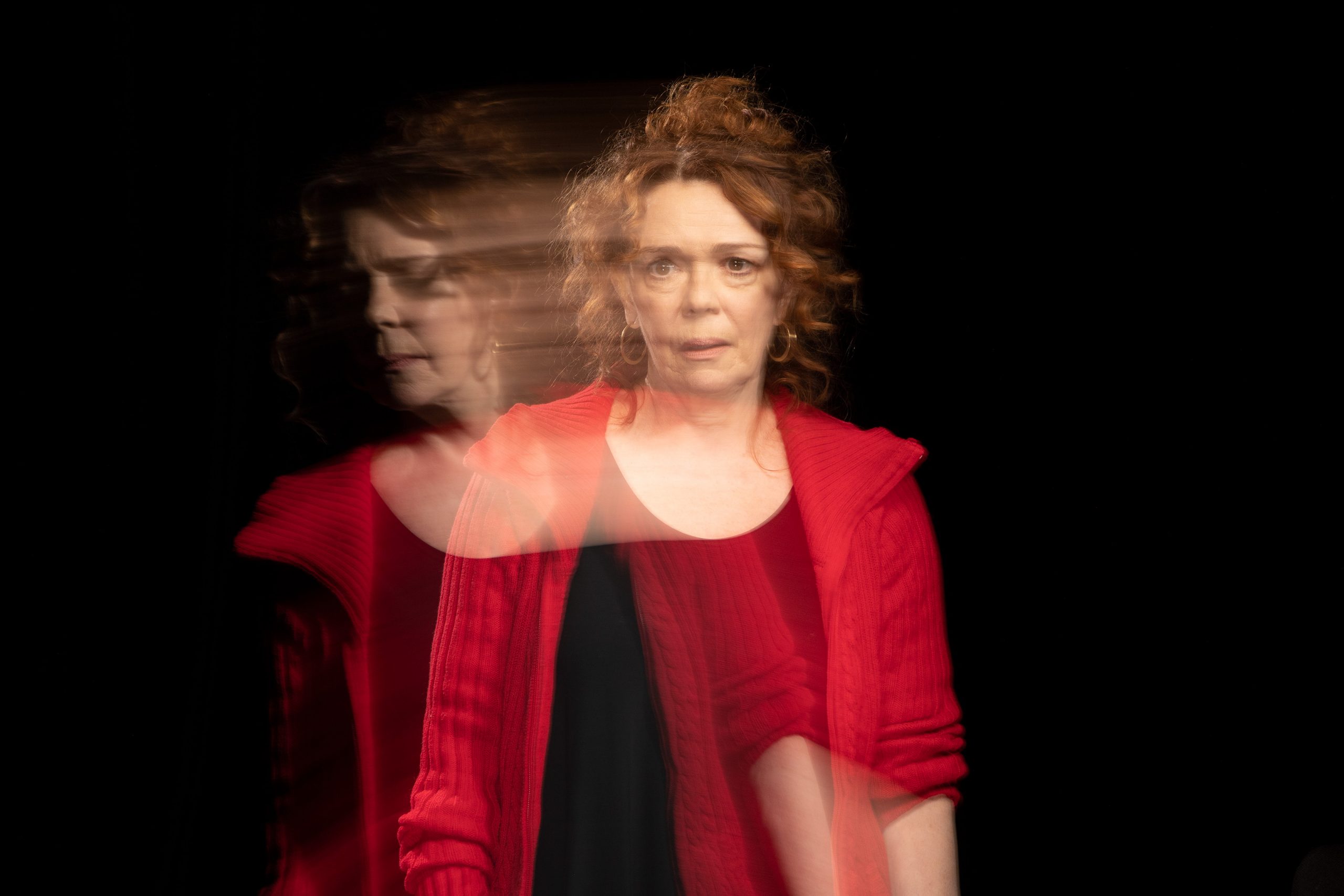 DANA H.
By Lucas Hnath
Adapted From Interviews With
Dana Higginbotham Conducted By Steve Cosson
Featuring Deirdre O'Connell
Directed By Les Waters
A co-production with Goodman Theatre and Center Theatre Group
A harrowing true story, Dana was held captive — trapped in a series of Florida motels, disoriented and terrified — for five months. Told in Dana's own words and reconstructed for the stage by her son Lucas Hnath (A Doll's House Part 2, The Christians), this innovative work shatters the boundaries of the art form and our understanding of good and evil. Winner of the Lucille Lortel Award for Best Solo Show as well as Lortel and Obie Awards for Deirdre O'Connell's "simply astonishing" performance (Time Out NY).
Recommended for ages 16+ for vivid descriptions of violence.
---
By Laura Collins-Hughes of The New York Times
Interviews with Lucas Hnath and Deirdre O'Connell
Read the full article here.
Artists
JESSI COTTER
(Assistant Stage Manager) Vineyard Theatre: KID VICTORY (PA). NYC credits: LIFE SUCKS, SINCERELY OSCAR, BLACK LIGHT, MILE LONG OPERA, CRUEL INTENTIONS: THE MUSICAL, MONICA: THIS PLAY IS NOT ABOUT MONICA LEWINSKY, ECOVILLAGE, MUST, COMEDY OF ERRORS (Classic Stage Company), VOODOO (Harlem Opera Theatre), AN ASTRONAUT'S TALE (Encompass Opera/BAM), "MASTER HAROLD"… (Signature-PA), HAMILTON (PA). Event Stage Management. Oregon credits: PM Ballet Fantastique, Shedd Institute; SM Oregon Contemporary Theatre; QM Pickathon Music Festival. MFA, Columbia University.
CLARISSA MARIE LIGON
(Production Stage Manager) Vineyard Theatre debut. Clarissa is a self-proclaimed 'Renaissance Woman' who makes art because she believes it can change the world. Recent production work includes: MEASURE FOR MEASURE at The Public (Mobile Unit), BEFORE THE MEETING at Williamstown Theatre Festival, JACK & at BAM Fisher, BLACK LIGHT at the Greenwich House Theatre, CRUEL INTENTIONS THE MUSICAL at le Poisson Rouge, 3/FIFTHS at 3LD, and Penny Arcade's LONGING LASTS LONGER at St. Anne's Warehouse.
STEVE COSSON
STEVE COSSON is a writer, director, and Artistic Director of The Civilians. Recently, Claire Kiechel's PAUL SWAN IS DEAD AND GONE, Jill Sobule's musical TIMES SQUARE, book/director THE ABOMINABLES (Children's Theatre Company), writer/director THE UNDERTAKING (BAM Next Wave, US tour, Theatre de la Ville, Paris, and 59E59); José Rivera's ANOTHER WORD FOR BEAUTY, (Goodman Theatre); writer/director, RIMBAUD IN NEW YORK (BAM); Michael Friedman and Bess Wohl's PRETTY FILTHY; THE BELLE OF AMHERST starring Joely Richardson; writer/director THE GREAT IMMENSITY (The Public Theater); Anne Washburn's MR. BURNS, A POST-ELECTRIC PLAY (Playwrights Horizons). Also, IN THE FOOTPRINT; writer/director, THIS BEAUTIFUL CITY (Center Theatre Group, Vineyard Theatre, and several other regionals); (I AM) NOBODY'S LUNCH; and GONE MISSING. In 2014-15, artist-in-residence at the Metropolitan Museum of Art. stevecosson.com
DANA HIGGINBOTHAM
DANA HIGGINBOTHAM is a writer, educator, and chaplain. For the past 20 years, her work as a chaplain in both hospitals and hospices throughout Florida has involved providing counsel for those who live with the effects of trauma, loss, and life threatening or life limiting issues. She develops and leads workshops on "Stress Debriefing," "Living with PTSD," and "Bereavement Intervention"; and the "Practical Spirituality" curriculum that she developed is used to address both addiction and adolescent affective disorders. She holds a Master's of Divinity and a PhD in Counseling.
STEVE CUIFFO
(Illusion & Lip Sync Consultant) Vineyard Theatre debut. Off-Broadway: THE THIN PLACE (Playwrights Horizons), OLD HATS, THE ANTIPODES (Signature); Lucas Hnath's A PUBLIC READING… (Soho Rep.); HOME, THE OBJECT LESSON (BAM); THE PASSION OF THE CRAWFORD (Lypsinka). Consultant on several of David Blaine's ABC television specials, and Magic Director on a recent U.S. tour of "David Blaine Live". Co-Founder of SECRET ARTS, specializing in visual effects and illusions. Associate performing artist with The Wooster Group. Co-creator of ELEPHANT ROOM, an absurdist magic extravaganza.
MIKHAIL FIKSEL
(Sound Design) Vineyard Theatre debut. Other recent projects include Playwrights Horizons, The Public Theater, Signature Theater, La Jolla Playhouse, Oregon Shakespeare Festival, Goodman Theatre, Chicago Shakespeare, Victory Gardens, South Coast Rep, A.C.T., Writers Theatre, The Civilians, PlayCo, Manhattan Theatre Club, Steppenwolf Theatre, Williamstown Theater Festival, Albany Park Theater Project, and original audio plays with Make Believe Association. Film work includes original scores for Glitch, The Wise Kids, and In Memoriam. He is a recipient of two Lucille Lortel Awards, multiple Joseph Jefferson Awards, two Drama Desk nominations, and the Michael Maggio Emerging Designer Award. Outside of theater stages, he produces and performs as DJ, often under a moniker DJ White Russian, and he is a proud member of TSDCA and USA. mikhailfiksel.com
PAUL TOBEN
(Lighting & Supertitle Design) Vineyard Theatre debut. ANGELS IN AMERICA (PARTS 1 AND 2), PETER AND THE STARCATCHER, 4000 MILES, and many others at Actors Theatre of Louisville, and designs for five seasons of the Humana Festival including EVOCATION TO VISIBLE APPEARANCE, AIRNESS, THE GROWN-UP, and THE ROOMMATE. AUGUST RUSH (Paramount Aurora), MYSTERY OF LOVE & SEX, WITCH (Writers Theatre), ELECTRA (Court Theatre), CRY IT OUT (Northlight Theatre), THE WOLVES (Studio Theatre), NSFW (Roundhouse), SILENT SKY, TRIANGLE, UPRIGHT GRAND (TheatreWorks), THE BOOK OF WILL (Denver Center Theatre), FLY BY NIGHT, MEDEA (Dallas Theater Center), THE WHO AND THE WHAT (Kansas City Rep), FUTURITY (The Walker Arts Center), DADDY LONG LEGS (New York, regional and international premieres), THE STORY OF MY LIFE (Broadway). paultoben.com
JANICE PYTEL
(Costume Design) Vineyard Theatre debut. Previous collaborations with Les Waters include OUR TOWN (Actors Theatre of Louisville) and MIDDLETOWN (Steppenwolf). With Lucas Hnath: the world premiere of HILLARY AND CLINTON (Victory Gardens Theater). Broadway: Tony Award and Pulitzer Prize-winning production of I AM MY OWN WIFE by Doug Wright and Moises Kaufman's 33 VARIATIONS. Chicago credits: Steppenwolf Theatre Company, Victory Gardens Theater, Court Theatre, Goodman Theatre, Chicago Opera Theater, Writers Theatre, About Face Theater, Lookingglass, Chicago Shakespeare, and others. Regional credits: Alley Theatre, Kansas City Rep, Milwaukee Rep, Madison Rep, Alliance Theatre, Centerstage, and others. She is a member of Rivendell Theatre Ensemble in Chicago, a small equity company dedicated to advancing the lives of women through theatre. She co-chairs the Costume Design committee for her union, United Scenic Artists, Local 829.
Andrew Boyce
(Scenic Design) Vineyard Theatre debut. Andrew is a multi-disciplinary designer working on projects in theater, opera, live events, and film/TV. NYC: Lincoln Center Theater, Roundabout Theater Company, Atlantic Theater Company, New York Theater Workshop, Primary Stages, Playwrights Realm, Lucille Lortel, Barrow Street, Rattlestick, PlayCo. Regional: A.C.T, Actors Theater of Louisville, Alliance, Baltimore Centerstage, Berkeley Rep, Cal Shakes, Dallas Theater Center, Geffen, Goodman, Huntington, Longwharf, Milwaukee Rep, Old Globe, Oregon Shakespeare Festival, and Yale Rep, among many others. MFA: Yale School of Drama. Assistant Professor of Design at Northwestern.
www.andrewboycedesign.com
Deirdre O'Connell
Deirdre O'Connell (Dana H.) Recent favorite theatre includes: Dana H. by Lucas Hnath (Los Angeles Ovation Award, Obie Award, Outer Critics Circle Award, Lucille Lortel Award, Kirk Douglas Theatre, Goodman Theater and Vineyard Theatre), Before The Meeting by Adam Bock (Williamstown Theater Festival), Thunderbodies by Kate Tarker (Soho Rep), Fulfillment Center by Abe Koogler (Drama Desk and Drama League Award nominations) and By the Water by Sharyn Rothstein (Lortel nomination, Manhattan Theatre Club), Terminus by Gabriel Jason Dean (New York Theatre Workshop), The Way West by Mona Mansour and Thinner Than Water by Melissa Ross (Labyrinth), Judy by Max Posner (Page 73), Little Children Dream of God by Jeff Augustin (Manhattan Theatre Club), Scarcity by Lucy Thurber (Rattlestick), The Vandal by Hamish Linklater (The Flea), Circle Mirror Transformation by Annie Baker (Obie and Drama Desk Awards; Playwrights Horizons), In the Wake by Lisa Kron (Los Angeles Ovation Award, Richard Seff Actors' Equity Award, Lortel nomination,Kirk Douglas Theatre and Public Theatre), In the Blood by Susan Lori Parks (Public Theatre). Other favorite writers she has performed include Jenkins, Wellman, Schulman, Nelson, Meyer, Fornes, Shepard, Smith, and Chekhov. Recent films include Diane, Lez Bomb, I Am a Seagull, The Boy Downstairs, Gabriel, Synecdoche, NY, and Eternal Sunshine of the Spotless Mind. TV includes recurring roles on "One Dollar", "The Path", "The Affair", and "Nurse Jackie". She has an Obie for Sustained Excellence in Performance, a New York Drama Critics Circle Special Citation and a Lilly Award.
Les Waters
Les Waters (Director, Dana H.) is an Obie Award winner, was Artistic Director of Actors Theatre of Louisville from 2012–2018, where he directed The Thin Place, Evocation To Visible Appearance, Little Bunny Foo Foo, Recent Alien Abductions, MacBeth, For Peter Pan On Her 70th Birthday, The Glory Of The World, Luna Gale, At The Vanishing Point, The Christians, Our Town, Gnit, Girlfriends, Long Day's Journey Into Night, and Big Love. From 2003–2011, he served as Associate Artistic Director at Berkeley Repertory Theatre. His productions have been seen in New York at Playwrights Horizons, Signature Theatre Company, The Public Theater, Second Stage Theater, Manhattan Theatre Club, Connelly Theater, Clubbed Thumb, Soho Rep, and Brooklyn Academy of Music, and regionally at theatres such as Arena Stage, Huntington Theatre Company, Mark Taper Forum, Steppenwolf Theatre Company, Goodman Theatre, Yale Repertory Theatre, American Conservatory Theater, La Jolla Playhouse, and American Repertory Theater. In 2009, he made his Broadway debut with In The Next Room, or The Vibrator Play. He led the MFA directing program at University of California, San Diego from 1995–2003.
Lucas Hnath
Lucas Hnath (Playwright, Dana H.) received a 2017 Tony Award nomination for Best Play with A Doll's House, Part 2. Hnath's other plays include Hillary and Clinton, The Thing Place, Red Speedo, The Christians, A Public Reading Of An Unproduced Screenplay About The Death of Walt Disney, Issac's Eye, and Death Tax. He has been produced on Broadway at the John Golden Theatre, Off-Broadway at New York Theatre Workshop, Playwrights Horizons, Soho Rep, and Ensemble Studio Theatre. His plays have also been premiered at the Humana Festival of New Plays, Victory Gardens, and South Coast Repertory. He is a New York Theatre Workshop Usual Suspect, a member of Ensemble Studio Theatre, and an alumnus of New Dramatists. Awards: Whiting Award, Guggenheim Fellowship, Kesselring Prize, Outer Critics Circle Award for Best New Play, Obie Award for Playwriting, Steinberg Playwright Award, and the Windham-Campbell Literary Prize.
Conor McCarthy
(Production Manager) Conor is thrilled to be back at The Vineyard for his seventh show. Past Vineyard Theatre credits include: DO YOU FEEL ANGER?, IS THIS A ROOM, CAN YOU FORGIVE HER?, HARRY CLARKE, THE AMATEURS, and THE BEAST IN THE JUNGLE. Select NYC credits include: GIRLS & BOYS, SMOKEY JOE'S CAFÉ, DANIEL'S HUSBAND, and SAKINA'S RESTAURANT. Conor would like to thank his family and friends for their constant support throughout his theater career so far. Proud graduate of La Salle University. Ave!