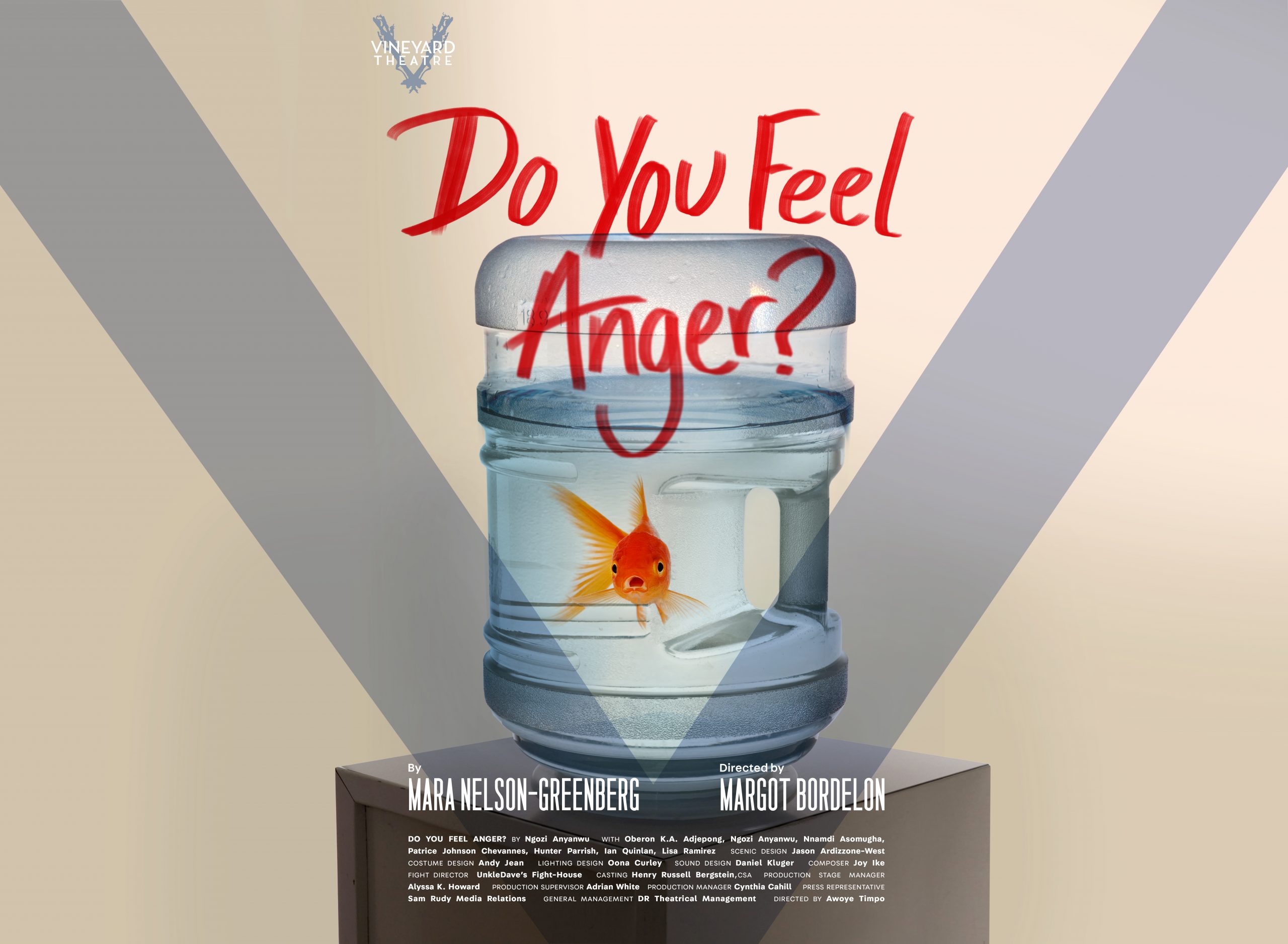 DO YOU FEEL ANGER?
By Mara Nelson-Greenberg
Directed by Margot Bordelon
with Tom Aulino, Ugo Chukwu, Megan Hill, Justin Long, Greg Keller, Jeanne Sakata, Tiffany Villarin
In Mara Nelson-Greenberg's dazzling dark comedy, Sofia is hired as an empathy coach at a debt collection agency — and clearly, she has her work cut out for her. These employees can barely identify what an emotion is, much less practice deep, radical compassion for others. As they painstakingly stumble towards enlightenment, someone keeps mugging Eva in the kitchen, and the unspoken dynamics of their seemingly blithe workplace culture become increasingly unsettling. This absurdly funny and potent new play, directed by Margot Bordelon (EDDIE AND DAVE), reminds us that change is not always easy, and may come with unexpected costs.
---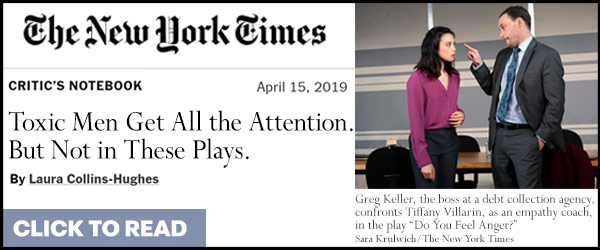 ---
---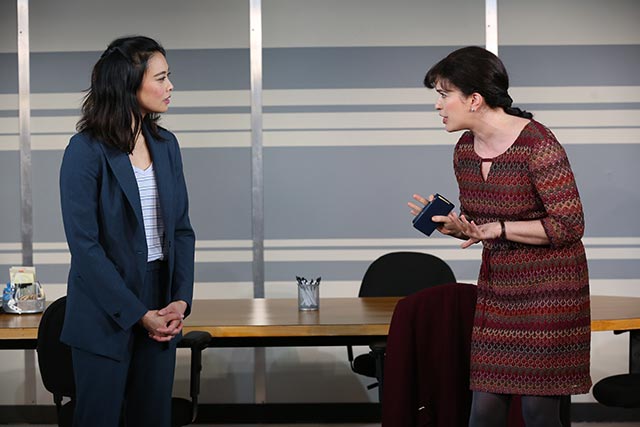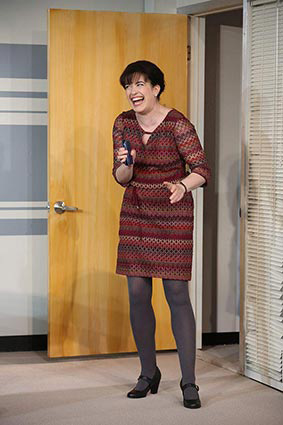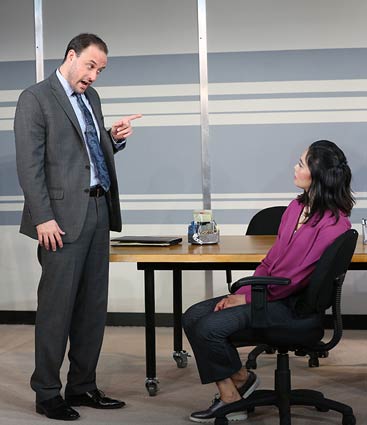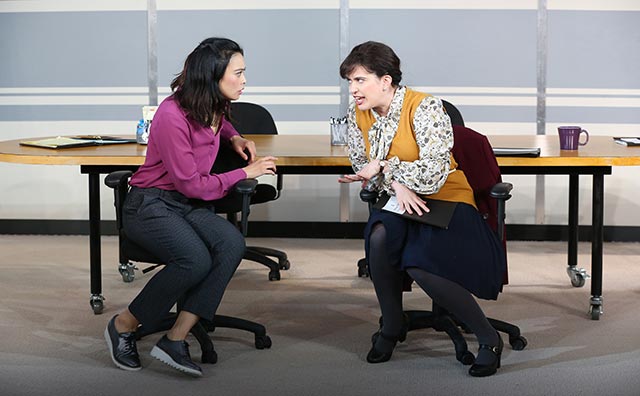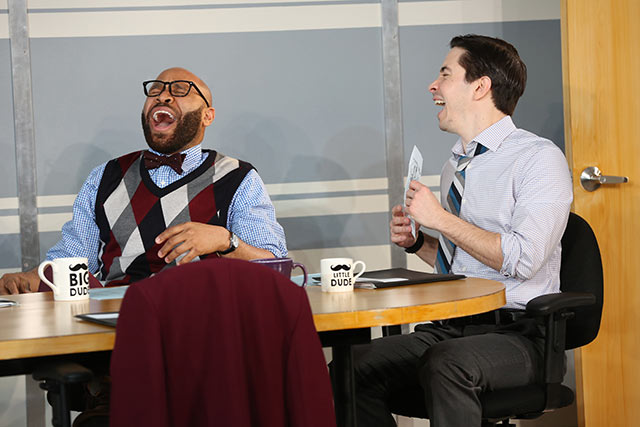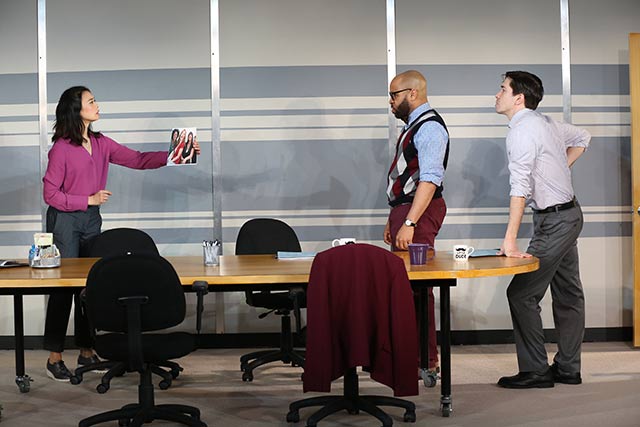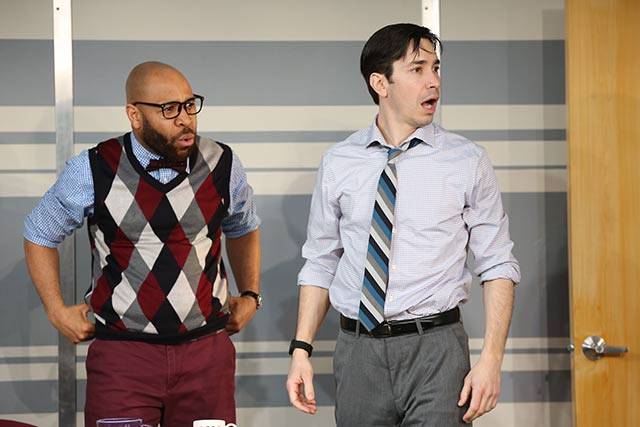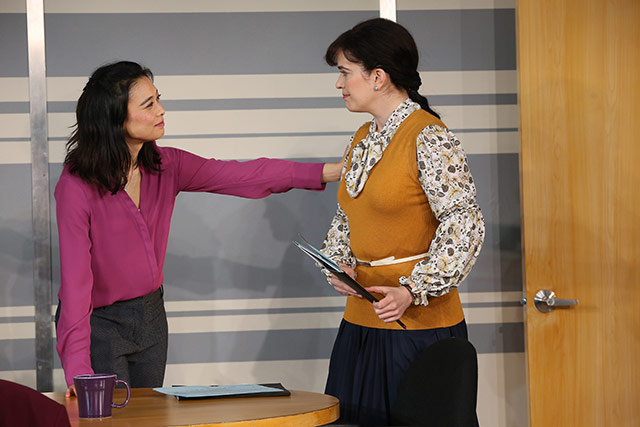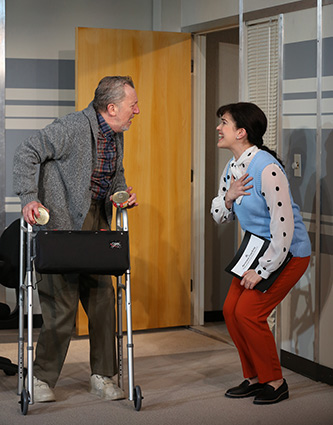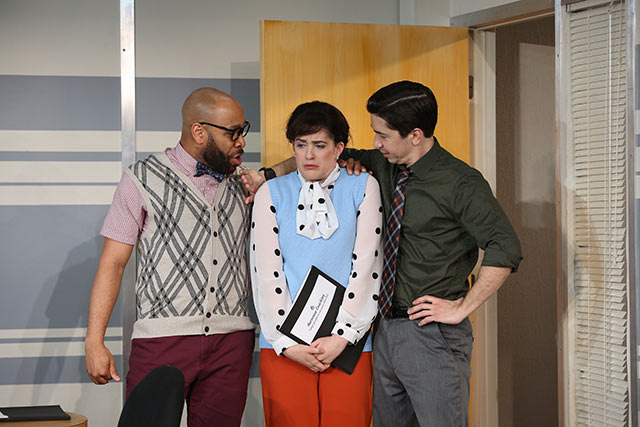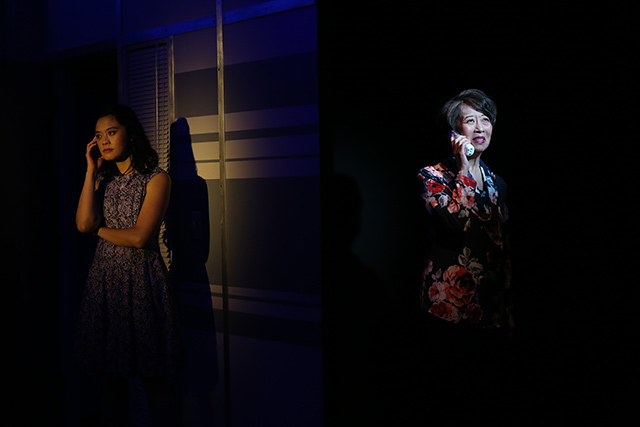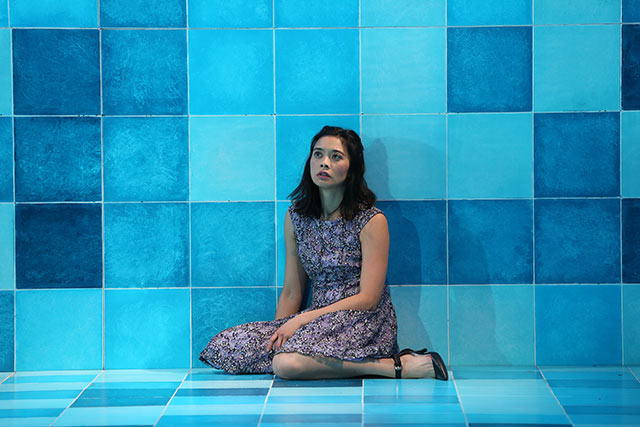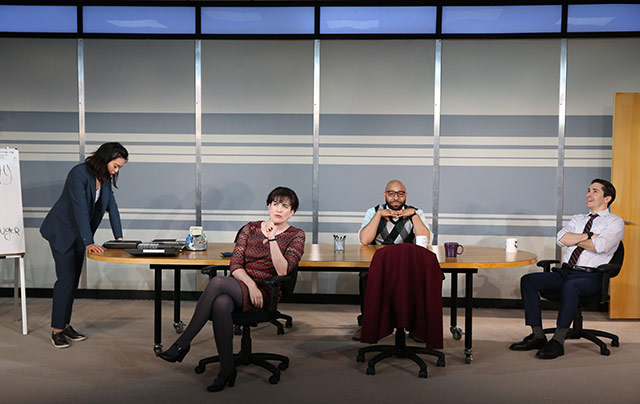 Artists
Conor McCarthy
(Production Manager) Conor is thrilled to be back at The Vineyard for his seventh show. Past Vineyard Theatre credits include: DO YOU FEEL ANGER?, IS THIS A ROOM, CAN YOU FORGIVE HER?, HARRY CLARKE, THE AMATEURS, and THE BEAST IN THE JUNGLE. Select NYC credits include: GIRLS & BOYS, SMOKEY JOE'S CAFÉ, DANIEL'S HUSBAND, and SAKINA'S RESTAURANT. Conor would like to thank his family and friends for their constant support throughout his theater career so far. Proud graduate of La Salle University. Ave!
Laura Jellinek
(Scenic Design) Vineyard Theatre debut. Broadway: MARVIN'S ROOM.
Off-Broadway: OKLAHOMA! (St. Ann's, Bard), MARY PAGE MARLOWE (2ST), MARY JANE
(NYTW, Lortel nomination), RAGS PARKLAND… (Ars Nova), QUEENS, THE WOLVES (LCT),
A LIFE (Playwrights Horizons, Lortel & Hewes Awards), THE TREASURER, MARJORIE PRIME
(Playwrights), THE ANTIPODES, EVERYBODY (Signature), SEA WALL/A LIFE (Public); The
Debate Society, The Mad Ones. Regional: Yale, OSF, Williamstown. Opera: OTSL, Boston
Lyric, Opera Philadelphia, Atlanta Opera. Obie for Sustained Excellence.
Emilio Sosa
(Costume Design) Vineyard Theatre debut. Broadway & London: ON YOUR
FEET!, MOTOWN, LADY DAY AT EMERSON'S BAR AND GRILL, THE GERSHWINS' PORGY AND
BESS (Tony nom.), TOPDOG/UNDERDOG. Off-Broadway: THE LIGHT, EVE'S SONG, ME AND
MY GIRL, BY THE WAY MEET VERA STARK, VENUS, INVISIBLE THREAD, ROMEO AND JULIET,
THE MISANTHROPE, SEX WITH STRANGERS. Regional: MAN IN THE RING, THE WHITE CARD, SEIZE THE KING, MA RAINEY'S BLACK BOTTOM, Radio City Rockettes, Trustee American Theatre Wing. @esosafashion
Marie Yokoyama
(Lighting Design) Vineyard Theatre debut. Off-Broadway: DAYBREAK,
FILM CHINOIS, THREE TREES. Other NYC credits: WILDER GONE, PILLOWTALK, ORPHEUS IN
THE UNDERWORLD, BUM PHILIPS, MARIA CELESTE. Regional: ALMOST MAINE, ON GOLDEN
POND, RAGTIME, PASSION PLAY, A MAN OF NO IMPORTANCE, BLOODY BLOODY ANDREW
JACKSON (Redhouse), THE HOUND OF THE BASKERVILLES (Gulfshore Playhouse), FAUST
(Curtis Institute of Music), COMPULSION (Yale Rep). MFA from Yale School of Drama.
Palmer Hefferan
(Original Music & Sound Design) Vineyard Theatre debut. Select credits
include: Broadway: THE LIFESPAN OF A FACT (Studio 54). Off-Broadway: COLLECTIVE RAGE,
CHARM, SCHOOL GIRLS (MCC), SUGAR IN OUR WOUNDS, IMPORTANT HATS… (MTC), BOBBIE
CLEARLY (Roundabout), FABULATION, DEATH OF THE LAST BLACK MAN… (Signature),
TODAY IS MY BIRTHDAY (Page 73, Henry Hewes Award, Drama Desk nomination). Regional:
DANGEROUS HOUSE, SEARED, ROMANCE NOVELS… (WTF), AS YOU LIKE IT, HENRY V, HENRY IV, PART ONE (OSF), BABY SCREAMS MIRACLE (Woolly Mammoth, Helen Hayes Award).
J. Jared Janas
(Wig, Hair and Makeup Design) Vineyard Theatre: THE AMATEURS, THIS
DAY FORWARD. Broadway: INDECENT, GETTIN' THE BAND BACK TOGETHER, BANDSTAND,
SUNSET BOULEVARD, THE VISIT, THE REAL THING, LADY DAY AT EMERSON'S BAR & GRILL,
MOTOWN, PETER AND THE STARCATCHER, THE GERSHWINS' PORGY AND BESS, ALL ABOUT
ME, NEXT TO NORMAL. Recent theater includes ALICE BY HEART (MCC), JAGGED LITTLE
PILL (A.R.T), THE LOW ROAD (The Public), YOURS UNFAITHFULLY (Mint Theatre, Drama Desk
nomination).
Jeanne Sakata
Jeanne's acting and writing talents span across theater, film and television, with multiple productions of her acclaimed solo play HOLD THESE TRUTHS (2013 Drama Desk Nomination, Outstanding Solo Performance; 2019 Theatre Bay Awards, Outstanding Production, Direction and Principal Performance) recently produced at TheatreWorks Silicon Valley, Arena Stage, Hang A Tale, Lyric Stage Company, Pasadena Playhouse, the Guthrie, ACT Seattle, Portland Center Stage, Perseverance Theatre, and PlayMakers Repertory Company, among others. Premiering with the East West Players in Los Angeles, and then Off-Broadway with the Epic Theatre Ensemble, the play is inspired by the true story of Japanese American civil rights giant Gordon Hirabayashi, to whom President Obama posthumously awarded in 2012 a Presidential Medal of Freedom, the nation's highest civilian honor.
Called a "local treasure" by The Los Angeles Times, Jeanne's screen credits include Jennifer Phang's internationally acclaimed indie sci-fi film, Advantageous; on TV, guest/recurring roles on "Big Hero 6," "Dr. Ken," Bravo's "True Fiction," "NCIS Angeles," "NUMB3RS," Tyler Perry's "Meet the Browns," "Desperate Housewives," "Presidio Med," "ER," "Threat Matrix," "Line of Fire," "American Family," John Ridley's "I Got You," "Hiroshima," and "Sex and Marriage," a Justin Lin YOMYOMF YouTube webseries. Onstage, Jeanne has performed with the Public Theater, Lincoln Center Theater, Kennedy Center, Mark Taper Forum, South Coast Rep, La Jolla Playhouse, American Conservatory Theater, Berkeley Rep, Intiman Theatre, A Contemporary Theatre, Portland Center Stage, People's Light, Syracuse Stage and the Arizona Theatre Company.
Special honors: LA Ovation Award for Outstanding Lead Actress, Chay Yew's RED, East West Players; 2016 Lee Melville Award for Outstanding Contribution to the Los Angeles Theatre Community, Playwrights' Arena; Outstanding Artist Award, Los Angeles' Pacific American Friends of Theatre. (www.jeannesakata.com; www.holdthesetruths.info)
Margot Bordelon
Margot Bordelon is a Brooklyn-based director who specializes in new work. Upcoming: EDDIE AND DAVE by Amy Staats at Atlantic Theater Company. Recent projects: PLOT POINTS IN OUR SEXUAL DEVELOPMENT by Miranda Rose Hall at LCT3; WILDER GONE by Angela Hanks for Clubbed Thumb (NYT's Critics' Pick); DO YOU FEEL ANGER? by Mara Nelson-Greenberg at ATL's Humana Festival, THE LAST CLASS: A JAZZERCIZE PLAY by Megan Hill at ATC in Seattle, TOO HEAVY FOR YOUR POCKET by Jireh Breon Holder at the Roundabout Underground and the Alliance, THE PEN by Julianne Wick Davis and Dan Collins for Premieres NYC (NYT's Critics' Pick), PEERLESS by Jiehae Park at Marin Theatre Company and Yale Rep, A DELICATE SHIP by Anna Ziegler for Playwrights Realm (NYT's Critics' Pick), and OKAY, BYE by Joshua Conkel at Steppenwolf Theater. Her work has been seen at Ars Nova, American Theater Co., Berkeley Rep, Cherry Lane, Clubbed Thumb, Dodo, Juilliard, The Lark, NYTW, P73, Perry Mansfield, Play Penn, Portland Center Stage, Primary Stages, The Public, PWC, Rattlestick, SPACE at Ryder Farm, Steppenwolf, the Wilma, and Woolly Mammoth, among others. Margot moved east after spending six years in Chicago working as a director, writer and performer. She is a founding member of Theatre Seven of Chicago, and spent four seasons working on the artistic staff of Lookingglass Theatre. BFA: Cornish College of the Arts. MFA: Yale School of Drama. www.margotbordelon.com
Mara Nelson-Greenberg
Mara Nelson-Greenberg's work has been developed at Playwrights Horizons, Clubbed Thumb, Ensemble Studio Theatre and Dixon Place, among others. She is a member of Youngblood at Ensemble Studio Theater and an alumnus of Clubbed Thumb's Early Career Writers Group. Her play DO YOU FEEL ANGER? premiered at the 2018 Humana Festival at Actors Theatre of Louisville and her play HAMLET by Mia Fefferman was a finalist for the 2017 Relentless Award. She grew up in Brooklyn, NY and received her B.A. from Princeton University. She is currently pursuing her MFA at UC-San Diego under Naomi Iizuka.
Justin Long
Justin Long started his theatre career at the Williamstown Theatre Festival in Joe Mantello's  production of THE HOT L BALTIMORE – he's subsequently appeared in eight other plays at WTF, as well as productions at New York Stage + Film, Hartford Stage, The Roundabout, on Broadway with Jeff Goldblum in SEMINAR, and most recently as Albert Einstein in Steve Martin's PICASSO AT THE LAPIN AGILE at The Old Globe. Justin will next be seen in the BBC/Netflix drama "Girl/Haji," created and written by BAFTA nominee Joe Barton and directed by BAFTA-winner and Emmy nominee Julian Farino. Other recent TV work includes: "Portlandia," "Inside Amy Schumer," "New Girl," "Mom," "The Conners," and Netflix's "F is for Family" (series regular). He got his start with movie roles in Galaxy Quest and Jeepers Creepers. He then shifted to the small screen on the NBC series "Ed" and enjoyed his first box-office success in the offbeat comedy, "Dodgeball." Other comedic roles include Universal's Accepted and Strange Wilderness both with Jonah Hill, The Break Up (opposite Vince Vaughn and Jennifer Aniston), Waiting with Ryan Reynolds, Mike Judge's Idiocracy, Miguel Arteta's Youth in Revolt and Kevin Smith's Zack and Miri Make a Porno, (opposite Seth Rogen). Other credits include Live Free or Die Hardopposite Bruce Willis, the ensemble cast of He's Just Not That Into You, including Ben Affleck, Jennifer Aniston, Drew Barrymore, and Scarlett Johansson; and in Robert Redford's The Conspirator. More lead roles followed, including opposite Drew Barrymore in Going the Distance, Sam Raimi's Drag Me to Hell, Kevin Smith's Tusk, and Sam Esmail's Comet opposite Emmy Rossum. Justin starred in, wrote, and produced the 2013 feature, A Case of You, alongside Vince Vaughn, Sam Rockwell and Evan Rachel Wood, and voiced Alvin in all four Alvin and the Chipmunksmovies. Recent film roles include, Frank and Lola opposite Michael Shannon, And Then I Go, alongside Melanie Lynskey and Tony Hale, and co-starred opposite Cobie Smulders in Literally, Right Before Aaron.
Photo by Walter McBride
Tiffany Villarin
Tiffany originated roles in TEENAGE DICK (Public Theatre/Ma-Yi), DO YOU FEEL ANGER? and THE GROWN UP (Actors Theatre), PEERLESS (Cherry Lane/ Yale Rep/ Marin Theatre- SFBATCC Best Principal Actress Award, TBA Outstanding Actress Nomination), HOUSE RULES (Ma-Yi), DISNEY AND FUJIKAWA (EST), FIGARO (The Pearl), RESURRECTION (Diverse City), and GHOSTWRITTEN (Goodman.) Other theatre credits include Nina in the vaudeville-inspired version of THE SEAGULL (NAATCO), THE LANGUAGE ARCHIVE (Bristol Riverside), CONCERNING STRANGE DEVICES FROM THE DISTANT WEST (Timeline Theatre), GOLDEN CHILD (Silk Road Rising). TV/FILM: "Law & Order: SVU", "Elementary", "Instinct", "Bull", "The Blacklist", "Gotham", "Certainty", and "Shadow". Additional credits: Sundance Theatre Lab- GHOSTWRITTEN/HAVE YOU SEEN STEVE STEVEN? Ms. Villarin has a BFA from The Theatre School of DePaul University and is a member of The Actors Center.
Tom Aulino
Tom Aulino's  New York credits include the Broadway (George C. Wolfe) revival of ON THE TOWN as well as UP AGAINST IT!, THE CHANG FRAGMENTS, MEASURE FOR MEASURE and HENRY VIII (The Public), MARVIN'S ROOM (Playwrights Horizons) as well as Second Stage, Theatre for a New Audience, York Theatre and Theatre-In-Limbo. Chicago credits include CANDIDE, THE WINTER'S TALE, SHE ALWAYS SAID, PABLO (Goodman), THE DRESSER, VALPARAISO (Steppenwolf) and TAKE ME OUT (Joseph Jefferson Award) (Steppenwolf/About Face).  Other credits include Kansas City Rep., Huntington (Boston), Indiana Rep., Kennedy Center, Washington Shakespeare Theatre and, of course, "Law and Order."
Megan Hill
Megan is delighted to join The Vineyard production of DO YOU FEEL ANGER? after originating the role of Eva at the Humana Festival.  Megan has originated roles in the World Premieres of: EDDIE AND DAVE (The Atlantic); KENTUCKY (P73/EST), HAND TO GOD (EST), to name a few. As an actor and writer, her play THE LAST CLASS: A JAZZERCIZE PLAY (created with Amy Staats and Margot Bordelon) has enjoyed sold out runs in New York, DC, and Seattle. She has also worked with Bushwick Starr, Berkeley Rep's Ground Floor, SPACE on Ryder Farm, NACL, Soho Rep Lab, Ars Nova ANT Fest, Playwrights Horizons, Primary Stages, The Lark, HERE, Morgan Gould & Friends, New Dramatists, NYTW, Clubbed Thumb, New Georges, Labyrinth Lab, Target Margin, Ma-Yi, Pittsburgh Public, Target Margin, Stein/Holum, Intiman, Seattle Children's Theater/Speeltheatre Holland, Shanghai Dramatic Arts Center, The Guggenheim, among others. BFA: Acting/Original Works, Cornish College of the Arts. MFA: ART/MXAT IATT at Harvard University.  
Ugo Chukwu
Ugo Chukwu is an actor and teaching artist from the Bronx.  Recent credits: Aleshea Harris's WHAT TO SEND UP WHEN IT GOES DOWN with The Movement Theater Company, LUNCH BUNCH with Clubbed Thumb and "THE DANGER: AN HOMAGE TO STRANGE FRUIT at Jack.  Other credits: [PORTO] with WP Theater and The Bushwick Starr, TODAY IS MY BIRTHDAY with P73, MINOR CHARACTER: SIX TRANSLATIONS OF UNCLE VANYA… with New Saloon.  Regional:  RIPCORD with Huntington Theater and ADVENTURE QUEST at the Edinburgh Fringe Festival.  TV: "Unbreakable Kimmy Schmidt" and "The Path".  BFA at Brooklyn College.  www.ugochukwuactor.com.
Kelsy Durkin
(Assistant Stage Manager) is so happy to be back at The Vineyard! Also at The Vineyard: GOOD GRIEF, INDECENT. Other New York credits include THE CONVENT (A.R.T/NY), 1969: THE SECOND MAN (Next Door @ NYTW), SAMARA (Soho Rep), HUNGRY (The Public), THE WAY WE GET BY (Second Stage), WONDERLAND: ALICE'S ROCK 'N ROLL ADVENTURE (Atlantic For Kids), and RAGTIME ON ELLIS ISLAND. Regional: ArtsEmerson, Bay Street Theater, Weston Playhouse, Goodspeed Musicals, and several operas.
Greg Keller
Vineyard Theatre: THE AMATEURS, SOMEWHERE FUN. Greg has been lucky to act in new plays by Ayad Akhtar, Amy Herzog, Branden Jacobs-Jenkins, Jordan Harrison, Julia Cho, Sarah Ruhl, Richard Greenberg, Jenny Schwartz, Daniel Goldfarb, Sheila Callaghan, Melissa Ross, Rachel Bonds, Zayd Dohrn, Molly Smith Metzler, Moises Kauffman, Theresa Rebeck, Robert O'Hara, Rachel Axler, Larissa Fasthorse, Claire Lizzimore, Deb Laufer, Rachel Axler, and Sam Marks, to name a few. Greg was a Playwriting Fellow at The Juilliard School and has an MFA in Acting from NYU. His play DUTCH MASTERS was nominated for Best New Play of 2018 by the Off Broadway Theater Alliance.
Henry Russell Bergstein, CSA
(Casting Director) Vineyard Theatre: GOOD GRIEF, THE AMATEURS, HARRY CLARKE, THE LYONS (and Broadway), GLORIA (and Goodman), DOT, THE LANDING, CAN YOU FORGIVE HER?, KID VICTORY (and Signature DC), TOO MUCH SUN, BILLY & RAY, SOMEWHERE FUN, THE NORTH POOL, ARLINGTON, OUTSIDE PEOPLE, CHECKERS, PICKED, MIDDLETOWN, THE METAL CHILDREN, WIG OUT!. Other theater: KPOP, SMALL MOUTH SOUNDS, NATASHA, PIERRE, & THE GREAT COMET OF 1812; THE WILDNESS (Ars Nova). Sundance Theatre Lab: 5 seasons. Television: US Casting for "Black Mirror," Comedy Central's "The Other Two" with Allison Estrin, HBO's "Succession" and Amazon's "Mozart in the Jungle" with Douglas Aibel. Film: Saturday Church, It Felt Like Love, Easy Living; with Douglas Aibel – Grandma, Love After Love, How to Talk to Girls at Parties; with Allison Estrin – Spider-Man: Homecoming (NY Casting). Also: "Homecoming The Podcast" S1-2.
Joshua Yocom
(Props Master) is pleased to return to The Vineyard after previously propping THIS DAY FORWARD and CAN YOU FORGIVE HER?. Some of his memorable New York premieres include THE HUMANS (Roundabout and Broadway), LAZARUS (NYTW), GUARDS AT THE TAJ, THE MOTHER, THIS AIN'T NO DISCO, FIREFLIES, BLUE RIDGE (Atlantic Theater Co.), COLLECTIVE RAGE (MCC), and Sarah Ruhl's PASSION PLAY.
Megan Schwarz Dickert
(Production Stage Manager) Vineyard Theatre: SOMEWHERE FUN, GOD'S EAR. New York: Lincoln Center/LCT3, Atlantic, Playwrights Horizons, TFANA, NYTW, Page 73, Public, Clubbed Thumb (affiliated artist), WP Theater, Playwrights Realm, Play Company, Juilliard, Rattlestick, Foundry, Bedlam, CSC, Working Theater, 13P, Civilians, Flea, Builders Association, New Georges. Regional: NYSAF, Westport, Bard SummerScape, Hartford Stage, Williamstown, Long Wharf, Actors Theatre of Louisvillle, Trinity Rep, Adirondack Theatre Festival, Big Apple Circus, Capital Rep, and Idaho, North Carolina, Utah, and Nebraska Shakespeare Festivals. Megan is an advanced open water scuba diver and has run five marathons.
www.megandickert.com