An Interview with the Playwright: Paula Vogel on INDECENT
Pulitzer Prize-winning playwright Paula Vogel returns to The Vineyard with her new play, INDECENT, co-created with director Rebecca Taichman. INDECENT is inspired by the true events surrounding the controversial 1923 Broadway debut of Sholem Asch's GOD OF VENGEANCE — a play seen by some as a seminal work of Jewish culture, and by others as […]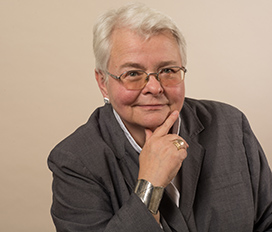 Pulitzer Prize-winning playwright Paula Vogel returns to The Vineyard with her new play, INDECENT, co-created with director Rebecca Taichman. INDECENT is inspired by the true events surrounding the controversial 1923 Broadway debut of Sholem Asch's GOD OF VENGEANCE — a play seen by some as a seminal work of Jewish culture, and by others as an act of traitorous libel. INDECENT charts the history of an incendiary drama and the path of the artists who risked their careers and lives to perform it. Literary Associate Miriam Weiner recently spoke with Paula about the reception of GOD OF VENGEANCE in Europe and New York, the role of music in her work and process, and her fruitful five-year creative collaboration with Rebecca Taichman.
What was the seed of INDECENT?
I read Sholem Asch's play GOD OF VENGEANCE when I was 23 years old, and I was astonished by it. In 1907, Sholem Asch was brave enough to write that Jews are no different than Catholics or Buddhists or people of any religion, in terms of having people in the tribe who may sell religion for a profit, or who are hypocrites. That's a very hard thing for a man to do, especially in a time of burgeoning anti-Semitism. Then add in the play's compassionate understanding of the powerlessness of women in that time and place — Asch is a young married man, in a very early work, writing the most astonishing love story between two women — and it makes a pretty compelling play to read and perform.
Many years later, in 2000, I saw Rebecca Taichman's MFA Thesis production at Yale, which interwove the text of GOD OF VENGEANCE with the transcript of the 1923 obscenity trial against the play in New York. I thought it was a fascinating idea. Flash forward to five years ago, when I got a phone call from Rebecca asking me to be involved. It took me thirty seconds to say yes.
Why do you think GOD OF VENGEANCE had such an impact in its time?
GOD OF VENGEANCE is set in a brothel run by a Jewish man who is attempting to raise his daughter piously, and it features a lesbian love story. When it was performed in New York in 1923, there was deep concern within the Jewish community about what Christians would think. "Do you dare to say this in public? Do you dare to show this in public?" It did exactly what plays should do — it provoked people into talking. GOD OF VENGEANCE traveled all over the world, and then it was closed down on Broadway. Today, nearly 100 years after it was shut down, it needs to be produced and talked about still — playwrights and new plays should bite the hand that feeds them, and that is what this play did.
Can you think of a contemporary play that has provoked similar outrage?
The plays that I admire, and the playwrights that I admire, are not shying away from the complexity of racism, bias, sexism and the things that hurt us. I'd point to AN OCTOROON by Branden Jacobs-Jenkins. That is a play that has an insider/outsider perspective. A musical I thought was astonishing was THE SCOTTSBORO BOYS. It's a brilliant, virulent show and I'm glad The Vineyard's production succeeded in London but it tells me a lot that it wasn't as well-received on Broadway. We are no different than the audiences who sat and watched GOD OF VENGEANCE.
Can you talk about your collaborative process with Rebecca Taichman?
When Rebecca brought me into this project, I didn't see this as a play about the obscenity trial, as her thesis project had been; as an older writer, there was a larger story that I engage in. About a fiery young playwright — not just Asch, but me, too — ignored for decades and then embraced by students. Rebecca was open and generous and allowed me to explore my ideas. I knew right from the beginning that I wanted music and a klezmer band, and Rebecca brought on composers, dancers and a choreographer. We talked over every page that I wrote; she showed me things in her staging that opened up the play for me and vice versa. She is an extraordinary, open-hearted collaborator.
You mentioned music, which plays an important role in this play. Did you know from the beginning how important music would be to the piece?
Every piece I write starts with music. I can't write until I have a specific soundtrack that correlates to the emotional journey of the play. Even plays like BALTIMORE WALTZ and HOW I LEARNED TO DRIVE have a complete score to them. So, right from the beginning, I had songs selected to write to, though not every song on my writing soundtrack makes it onto the page; sometimes, as the play changes, I spend hours finding a new song to match. As a writer, I don't think that anything I can write has the power that music does. I'm happiest in the rehearsal room when beautiful voices start singing.
What do you think Sholem Asch would make of INDECENT?
I'm not sure what he'd think. I think INDECENT respects him and respects his work and, most of all, feels a great empathy with the kind of pain he felt as a Jewish, Yiddish writer born at the beginning of the 20th century and going through the hideous events of that time. INDECENT asks, how do you write in a hideous time? How do you stay true to yourself? What happens if you censor the work that is telling the truth?
How do you see those questions in terms of the theatre today?
So many times we reach for the "classics" to produce; and meanwhile, there are brilliant Americans of color, women and political writers who, by and large, are kept off stage or out of the spotlight. This can only mean that our discourse will continue to break down. The isolation that America experienced before our world wars was very detrimental and we are at a point right now where we have politicians endorsing the same sort of isolation. I see it as a very dangerous time, the most divisive moment in politics in my lifetime.
I do think we have an astonishing generation of voices right now. In terms of younger artists, this is the best time to write, act, and direct. It's never been more important. Hopefully I've encouraged fellow writers and younger writers who will make people feel differently about the world we all inhabit.
Your plays HOW I LEARNED TO DRIVE and THE LONG CHRISTMAS RIDE HOME premiered at The Vineyard, and eight years ago, the company created the Paula Vogel Playwriting Award, an annual award for emerging playwrights. What is it like to return to The Vineyard at this point in your life?
I'm so happy to be able to be at the Vineyard Theatre, with the artists that run this company, who don't shy away from producing work that really matters. As artists age, you become very concerned that you write something that matters to you. I want to write a love letter to the audience. And I'm concerned with the amount of time I have left on this earth. I need to be working in a room where I love the process and love and respect everyone in that room. And I have that at The Vineyard. I've seen so much work there that I've loved and I just bless everyone who helps keep its doors open.
Ultimately, what do you hope the audience will take away from INDECENT?
I don't think of this as a grim play; I think about it as a love story in terrible times. If we love music and theatre and the arts, if we take solace in people sitting beside us in the theatre, if we do what is in our hearts, I think there is light for us. I think the power of us being together in a community gives us light through the darkness. I'm writing this play because, regardless of what I've witnessed in my life, I've never been sorry that I've spent my life in the theatre. I think the power of art is the power to wound our memory. I think the power of art is a way for us to change our world view. I think art is our spiritual bread that we break together.
Artists
TARA RUBIN CASTING
(Casting) Select Broadway: Falsettos (upcoming), School of Rock, Dr Zhivago, It Shoulda Been You, Gigi, Bullets Over Broadway, Aladdin, Les Misérables, How to Succeed…, A Little Night Music, Billy Elliot, Shrek, Guys and Dolls, Young Frankenstein, The Little Mermaid, Mary Poppins, Spamalot, …Spelling Bee, The Producers, Mamma Mia!, Jersey Boys, The Phantom of the Opera. Off-Broadway: Here Lies Love, Old Jews Telling Jokes, Love, Loss, and What I Wore. Regional: Sundance Theatre Lab, Yale Repertory Theatre, Paper Mill Playhouse, The Old Globe.
SVEN NELSON
(Props Master) has been a prop artisan at Irish Repertory Theatre, Classic Stage Company, and the NYU Steinhardt School, all in New York. Regionally, he has propped at Le Petit Théâter in New Orleans and TheaterWorks in Hartford, Connecticut.
VERONICA LEE
(Assistant Stage Manager) Off-Broadway: FUTURITY (Soho Rep/Ars Nova), ONCE UPON A MATTRESS (Transport Group) Regional: THE JACKSONIAN, THE EXPLORERS CLUB, THE BEST BROTHERS (B Street Theatre), NORA, THINGS WE DO FOR LOVE (Westport Country Playhouse). Training: Elon University.
Terri K. Kohler
(Production Stage Manager) Vineyard Theatre: INDECENT. New York: THE DEATH OF THE LAST BLACK MAN IN THE WHOLE ENTIRE WORLD…, CHERI (Signature); RED SPEEDO, SCENES FROM A MARRIAGE, BELLEVILLE, THE BLACK EYED (New York Theatre Workshop); MOTHER COURAGE, DOCTOR FAUSTUS, THE CAUCASIAN CHALK CIRCLE, THE SCHOOL FOR LIES, THE FOREST (CSC); FUTURITY (Soho Rep/Ars Nova); WASHETERIA, WE ARE PROUD…., ORANGE, HAT & GRACE (Soho Rep); PRETTY FILTHY, IN THE FOOTPRINT, PARIS COMMUNE, THE GREAT IMMENSITY (Civilians); THE DESIGNATED MOURNER, IN DARFUR, (The Public); GARDEN OF EARTHLY DELIGHTS, ANGEL REAPERS (Conceived by Martha Clarke). Select Regional: WILD SWANS (ART/Young Vic); OEDIPUS, A MIDSUMMER NIGHT'S DREAM, LA DISPUTE, THE SOUND OF A VOICE (ART). Usual Suspect (NYTW), Associate Artist, The Civilians.
SIMON THOMAS-TRAIN
(Assistant Choreographer) began dancing at Middlebury College, transitioning from an extensive background in competitive cross country skiing to graduate with a BA in Dance and Architectural Studies in 2009. Since then he has had the pleasure of working with Tiffany Rhynard/Big Action Performance Ensemble, Satya Roosens, Attack Theatre, Megan Bascom and Dancers, Alexandra Beller/Dances, Tiffany Mills and Company, Red Dirt Dance, Boomerang, Vanessa Anspaugh, Pavel Zustiak|palissimo, Rosie Herrera Dance Theater, David Dorfman Dance and most recently with the Bessie-winning THEN SHE FELL and THE GRAND PARADISE, both by Third Rail Projects. He has taught extensively in NYC as well as numerous colleges and universities across the country. He is the co-founder and co-artistic director of the multidisciplinary performance company The Space We Make.
RACHEL DART
(Assistant Director) Selected directing credits include work at Actors Theatre of Louisville (CABIN FEVER; BROTHERS IN A RIOT; SEVEN BELLS INN), Williamstown Theatre Festival (HARRISON RIVERS' BUT NOT FOR LOVE), Ensemble Studio Theatre (Kim Davies' TONIGHT'S THE NIGHT, among others), Culture Project (BROADWAY! BROADWAY! BROADWAY!), The Flea (Emily Schwend's NOTES TO A GHOST), York Theatre (CLONED!), and The Atlantic Alumni Workshop (Evan Twohy's DOG YEARS) and Acting School (CHEMISTRY READ and WELCOME TO THE MOON). Assisting includes BAM (THE GLORY OF THE WORLD), Williamstown Theatre Festival (AMERICAN HERO), Roundabout Theatre Company (TALLEY'S FOLLY), The Acting Company (DESIRE), and Manhattan Theatre Club (NIGHTINGALE; Jonathan Alper Directing Fellow). BFA, Tisch School of the Arts at NYU.
RICK SORDELET
(Fight Director) He and his son, Christian Kelly-Sordelet are creators of Sordelet INC, a combat company bringing over 30 years of action movement to the New York City theatrical community. Sordelet INC has 68 Broadway credits including BEAUTY AND THE BEAST, THE LION KING, ECLIPSED, and BRIGHT STAR. They have 65 first-class production credits in hundreds of cities on five continents including BEN HUR LIVE (Rome, European Tour) and four international and national tours currently running. They are presently working on THE NEW YORK SPECTACULAR for Radio City Music Hall and three operas for Santa Fe Opera. They are stunt coordinators on over 1,000 episodes of television and for numerous feature films. Rick is a board member of The Shakespeare Theatre of New Jersey and author of the play BURIED TREASURE. He is also the author of the upcoming film 20,000 Leagues Under The Sea produced by Fox and directed by Bryan Singer. sordeletink.com.
MATT HUBBS
(Sound Designer) Recent designs include: THE ROYALE (Lincoln Center Theater, Old Globe); INDECENT (La Jolla Playhouse, Yale Rep); NATASHA, PIERRE AND THE GREAT COMET OF 1812 (ART, Ars Nova, Kazino); TIME AND THE CONWAYS (Old Globe); STAGE KISS, 100 SAINTS YOU SHOULD KNOW (Playwrights Horizons); MARIE ANTOINETTE (ART, Yale Rep, SoHo Rep); THREE PIANOS (NYTW, ART); THE HUMAN SCALE (The Public); TELEPHONE (Foundry Theatre); HOW WE GOT ON, DEATH TAX, A DEVIL AT NOON (Humana Festival); HAMMOCK and BLUEPRINTS OF RELENTLESS NATURE (Liz Lerman Dance Exchange). As a company member of The TEAM, Matt has designed ROOSEVELVIS, THE HOLLER SESSIONS, WAITING FOR YOU ON THE CORNER OF…, MISSION DRIFT, ARCHITECTING, PARTICULARLY IN THE HEARTLAND, and A THOUSAND NATURAL SHOCKS. B.A. in Philosophy from Xavier University.
CHRISTOPHER AKERLIND
(Lighting Designer) has designed lighting for over 600 productions at theater, opera and dance companies across the country and around the world. At The Vineyard: THE DYING GAUL, and ANTIGONE IN NY. With Rebecca Taichman: TWELFTH NIGHT, THE WINTER'S TALE, MARIE ANTOINETTE, SLEEPING BEAUTY WAKES, among others. Recent: the Broadway productions of THE LAST SHIP, ROCKY (Tony Award nomination), and THE GERSHWINS' PORGY AND BESS (Tony Award Nomination); Martha Clarke's new works ANGEL REAPERS and CHERI for the Signature; VANESSA for Santa Fe Opera; GROUNDED at The Public; and the world premiere of SHALIMAR THE CLOWN for Opera Theater of St Louis. Awards: Tony, Drama Desk, Outer Critics Circle for THE LIGHT IN THE PIAZZA, an Obie for Sustained Excellence, and the Michael Merritt Award for Design and Collaboration.
EMILY REBHOLZ
(Costume Designer) Broadway: IF/THEN, VANYA AND SONIA AND MASHA AND SPIKE, BLOODY BLOODY ANDREW JACKSON. Recent Off-Broadway: DEAR EVAN HANSEN, THE WAY WE GET BY (Second Stage), THE ROBBER BRIDEGROOM (Roundabout), THE TEMPEST (Shakespeare in the Park), PRETTY FILTHY (The Civilians), OUR LADY OF KIBEHO (Signature), YARDBIRD (Apollo Theater). Recent Regional: INDECENT (La Jolla Playhouse and Yale Rep), ANOTHER WORD FOR BEAUTY (The Goodman), OTHELLO (Shakespeare DC). Upcoming: LA BOHÈME (Opera Theater of Saint Louis), DON GIOVANNI (Santa Fe Opera), AND NO MORE SHALL WE PART (Williamstown Theater Festival). MFA: Yale University.
RICCARDO HERNANDEZ
Scenic Designer) La Jolla Playhouse and Yale Rep productions of INDECENT. Broadway: THE GIN GAME; THE GERSHWINS' PORGY AND BESS; THE PEOPLE IN THE PICTURE; CAROLINE, OR CHANGE (also Royal National Theater, London); ELAINE STRITCH AT LIBERTY (also National Tour, Old Vic London); TOPDOG/UNDERDOG (Royal Court); BELLS ARE RINGING; PARADE (directed by Hal Prince; Tony and Drama Desk noms); BRING IN 'DA NOISE, BRING IN 'DA FUNK (also National Tour, Japan) and THE TEMPEST. Recent: GROUNDED directed by Julie Taymor, THE LIBRARY directed by Steven Soderbergh (The Public); LA MOUETTE (Cour d'Honneur, Palais des Papes, Avignon Festival); ABIGAIL'S PARTY (Oslo National Theatre); THE DEAD (The Abbey Theatre); KING LEAR (TFANA). He has designed over 200 productions in the U.S. and internationally. Faculty: SUNY Purchase.
REBECCA TAICHMAN
(Director) NY: FAMILIAR by Danai Gurira, MILK LIKE SUGAR by Kirsten Greenidge, and STAGE KISS by Sarah Ruhl (Playwrights Horizons); HOW TO TRANSCEND A HAPPY MARRIAGE by Sarah Ruhl (LCT); THE OLDEST BOY by Sarah Ruhl (LCT);  LUCK OF THE IRISH (LCT3);  ORLANDO (CSC); ORPHEUS (NYCO); DARK SISTERS (MTG/Gotham); RAPPACCINI'S DAUGHTER (Gotham); MARIE ANTOINETTE (Soho Rep), THE SCENE (2econd Stage), MENOPAUSAL GENTLEMAN (The Ohio). Select regional: INDECENT, FAMILIAR, EVILDOERS, and MARIE ANTOINETTE (Yale Rep); INDECENT, SLEEPING BEAUTY WAKES (La Jolla); TWELFTH NIGHT, TIME AND THE CONWAYS (The Old Globe); MARIE ANTOINETTE (A.R.T.); SHE LOVES ME (OSF); THE WINTER'S TALE (McCarter Theatre Center, STC); TWELFTH NIGHT, WINTER'S TALE, THE TAMING OF THE SHREW (STC); DEAD MAN'S CELL PHONE, THE CLEAN HOUSE (Woolly Mammoth) Rebecca is a Henry Crown Fellow at The Aspen Institute. www.rebeccataichman.com.
PAULA VOGEL
(Playwright)  HOW I LEARNED TO DRIVE, THE LONG CHRISTMAS RIDE HOME (The Vineyard); DO JUAN COMES HOME FROM IRAQ (Wilma Theatre); A CIVIL WAR CHRISTMAS (Long Wharf, New York Theatre Workshop); THE MINEOLA TWINS (Roundabout); HOT 'N' THROBBING (A.R.T., Signature Theatre); THE BALTIMORE WALTZ, DESDEMONA, AND BABY MAKES SEVEN (Circle Rep); THE OLDEST PROFESSION (Signature Theatre). Awards include the Pulitzer Prize, two Obies, the NY Drama Critics Circle, Theatre Hall of Fame, Dramatists Guild Lifetime Achievement, and The Thornton Wilder Award. She is most honored by three awards given in her name: the Paula Vogel Award at the American Theatre College Festival, the Paula Vogel mentorship program for Philadelphia Young Playwrights, and the Paula Vogel Playwriting Award given by the Vineyard Theatre. After teaching for 30 years at Brown University and Yale School of Drama, she now conducts workshops at theatres, schools, and community organizations. Upcoming projects: Jitterbugging and the War Effort (Long Wharf), Baby Girl, a musical theatre work with Matt Gould, and the book, How to Bake A Play.
AARON HALVA
(Co-Composer & Co-Music Director, Musician) Yale Rep: Dario Fo's ACCIDENTAL DEATH OF AN ANARCHIST, Molière's A DOCTOR IN SPITE OF HIMSLEF, and Goldonoi's THE SERVANT OF TWO MASTERS. Regional credits include  THE SERVANT OF TWO MASTERS (Guthrie Theater, ArtsEmerson, The Shakespeare Theatre Company, and Seattle Rep), A DOCTOR IN SPITE OF HIMSELF (Intiman Theatre, Berkeley Rep), and THE MOLIERE IMPROPTU (Trinity Rep). International: BALLYWOONDE (Edinbrugh Fringe Festival). Film: Wall Street: Money Never Sleeps, as leader and arranger for Cuban music group Nu D'Lux.
LISA GUTKIN
(Co-Composer & Co-Music Director, Musician) is a Grammy Award-winning musician known as violinist, vocalist and composer for the Klezmatics and her work on Sting's THE LAST SHIP. She has appeared in "Sex and the City," Hava Nagila (The Movie), The Klezmatics: On Holy Ground, and SEEING IS BELIEVING by Dutch choreographer Maggie Boogaart. Compositions include the score for Mabou Mines' multi-ethnic folk opera SONG FOR NEW YORK: WHAT WOMEN DO WHILE MEN SIT KNITTING, and songs with lyrics by Woody Guthrie, Maggie Dubris and Anne Sexton. She performs with an array of artists and has appeared on "The Conan O'Brien Show," "Prairie Home Companion," and "Mountain Stage."
Lisa has an instructional DVD called "Play Klezmer Fiddle!" and will soon release the first of three collections of new songs and compositions.
MIKE COHEN
(Musician) performs throughout the country at venues as diverse as Lincoln Center, the Blue Note, Dizzy's, Birdland, and Weill Hall at Carnegie Hall. He is the clarinet player and bandleader of the Kleztraphobix. Mike produced and recorded "I Love to Sing, Music of the Ugandan Jews" featuring the choir of the Orthodox Jewish Village of Putti, Uganda, which was released in December 2014. His jazz CD "Open Window" was released in December 2013 and features eight original tunes he composed. The core narrative of this album was inspired by Cohen's teenage battle with Leukemia. www.mikecohenmusic.com
ADINA VERSON
Actor) Yale and La Jolla productions of INDECENT. Other credits include AS YOU LIKE IT (Shakespeare Theatre Company, DC), Chris Bayes's THE SERVANT OF TWO MASTERS (Guthrie Theatre, Seattle Rep, ArtsEmerson), THE WINTERS TALE (Yale Rep), 4000 MILES (Cincinnati Playhouse), HIM (Primary Stages), and MACHINE MAKES MAN (Amsterdam Fringe — Best In'tl Performance, National Arts Festival of South Africa), which she co-created with Michael McQuilken. TV: Miriam Setrakian on "The Strain" (FX), and "Deadbeat" (Hulu). BFA, Boston Conservatory. MFA, Yale School of Drama.
RICHARD TOPOL
(Lemml) Yale and La Jolla productions of INDECENT. Broadway: FISH IN THE DARK with Larry David, the Tony Award-winning revivals of THE NORMAL HEART and AWAKE & SING, THE MERCHANT OF VENICE with Al Pacino, CYMBELINE, THE COUNTRY GIRL, THE SCHOOL FOR SCANDAL, and JULIUS CAESAR with Denzel Washington. Off-Broadway: REGRETS (MTC), BRONX BOMBERS and OPUS (Primary Stages), WHEN THE RAIN STOPS FALLING (Lincoln Center), KING LEAR, TWELFTH NIGHT and THE WINTER'S TALE (The Public), HAMLET (TFANA), The New Group, Soho Rep, and Playwrights Horizons. Film: Lincoln, Mickey Blue Eyes, Party Girl, Path to Paradise, and the upcoming Indignation, Great Gilly Hopkins, and Yinz. TV: "The Good Wife," "Elementary," "Person of Interest," all "Law & Order" series, and recurring roles on "The Practice", "Covert Affairs" and "Perception."
STEVEN RATTAZZI
(Actor) Yale and La Jolla productions of INDECENT. New York:  DEATH OF THE LIBERAL CLASS (New Ohio); CITY OF (Playwrights Realm); STUNNING (LCT3); GALILEO with F. Murray Abraham; THE TEMPEST with Mandy Patinkin, directed by Brian Kulick (CSC); THE TEMPEST, DINNER PARTY directed by David Herskovits (Target Margin); SPY GABRO (3LD); Taylor Mac's WALK ACROSS THE AMERICA FOR MOTHER EARTH (La MaMa E.T.C.); HENRY V with Liev Schrieber (The Public); PAINTED SNAKE ON A PAINTED CHAIR (OBIE Award, Talking Band); MCGURK (Elevator Repair Service); THE FOURTH SISTER (The Vineyard); and Richard Foreman's Samuel's MAJOR PROBLEMS (Ontological Theater at St. Mark's). Regional: David Adjmi's MARIE ANTOINETTE (ART/Yale Rep); THE SCHOOL FOR WIVES (Two River Theater). Film: The Family. TV: Dr. Orpheus on "The Venture Brothers."
TOM NELIS
(Actor) Yale and La Jolla productions of INDECENT. Broadway: THE VISIT, ENRON, THE CAINE MUTINY COURT-MARTIAL, AIDA. Off-Broadway: ROAD SHOW, RICHARD Ill, HENRY VI (title role), 'TIS PITY SHE'S A WHORE, HENRY VI PARTS 1 AND 2, AMERICAN DOCUMENT with The Martha Graham Dance Company (The Public); THE SEVEN, SCORE, THE MEDIUM (NYTW); DORIS TO DARLENE (Playwrights Horizons); IPHIGENIA 2.0, HOT 'N' THROBBING (Signature); PASSION, ORLANDO (CSC); SEPTIMUS AND CLARISSA; THE MERCHANT OF VENICE (TFANA/The Royal Shakespeare Company); THE TROJAN WOMEN/A LOVE STORY, MARATHON DANCING, ANOTHER PERSON IS A FOREIGN COUNTRY; Ahab in Laurie Anderson's SONGS AND STORIES FROM MOBY DICK (BAM/World Tour); Oscar Wilde in GROSS INDECENCIES (Minetta Lane); HOT MOUTH (MTC); ANTIGONE (Dance Theater Workshop); PEARLS FOR PIGS (Richard Foreman/World Tour); 20+ years with SITI Company.
MAX GORDON MOORE
(Actor, Fight Captain) Yale and La Jolla productions of INDECENT. On Broadway, he was seen in RELATIVELY SPEAKING, three one-act plays written by Ethan Coen, Elaine May, and Woody Allen. Other recent credits include THE MASTER BUILDER with John Turturro (BAM); ARCADIA, THE CAUCASIAN CHALK CIRCLE (Yale Rep); TIME AND THE CONWAYS (The Old Globe); CONSTELLATIONS (The Seattle Rep), MAN AND SUPERMAN, IT'S A WONDERFUL LIFE (Irish Rep); TRAGEDY: A TRAGEDY (Berkeley Rep); THE SEAGULL (Cleveland Playhouse); RICHARD III, THE MERCHANT OF VENICE (California Shakespeare Theater); PLEASURE AND PAIN (Magic Theatre); PRIVATE JOKES, PUBLIC PLACES (Aurora Theatre). Film and TV: Gods Behaving Badly, The Terrors of Basket-Weaving, "Madam Secretary," and "The Good Wife." MFA, Yale School of Drama; Herschel Williams Prize in Acting.
MIMI LIEBER
(Actor) Yale and La Jolla productions of INDECENT. Broadway: ACT ONE (Lincoln Center Theater), BROOKLYN BOY, I'M NOT RAPPAPORT (revival). Off-Broadway: DISTRACTED (Roundabout). Regional: TWO THINGS YOU DON'T TALK ABOUT AT DINNER (Denver Center Theatre); PERSEPHONE, THE SISTERS ROSENSWEIG (Huntington Theatre); WE WON'T PAY! WE WON'T PAY! (Long Wharf); TAKING SIDES, THE GREEKS, LOVE COUNCIL, FIVE WOMEN WEARING THE SAME DRESS (Odyssey); LEON & LENA (AND LENZ) (Guthrie Theater); FIGARO GETS A DIVORCE (La Jolla Playhouse); MUCH ADO ABOUT NOTHING, OTHELLO (L.A. Shakespeare  Festival). National tour: THE HEIDI CHRONICLES. Film and TV includes: The Thing About My Folks, Arranged, Cold Souls, Permanent Midnight, Bulworth, Corrina, Corrina, Wilder Napalm, Just Another Story, "The Sopranos," "Law & Order," "Medium," "Friends," "The Practice," "Seinfeld," "ER," "The X-Files," "NYPD Blue."
KATRINA LENK
(Actor, Dance Captain) Yale and La Jolla productions of INDECENT. Broadway credits:  ONCE, SPIDER-MAN: TURN OFF THE DARK, and THE MIRACLE WORKER. Regional theatre includes: IWITNESS (Mark Taper Forum), ELMENO PEA, CLOUDLANDS, CAUCASIAN CHALK CIRCLE (South Coast Rep), CAMILLE (Bard Summerscape), LOST LAND (Steppenwolf Theater), and LOVELACE: A ROCK OPERA (LA Weekly, LADCC and Garland Award winner). Film/TV: Look Away, Evol: The Theory of Love, FracKtured, "Elementary," "The Get Down" and "The Blacklist." She is a co-creator of the comedy web series "Miss Teri" and is a member of several bands including her own, moxy phinx. katrinalenk.com