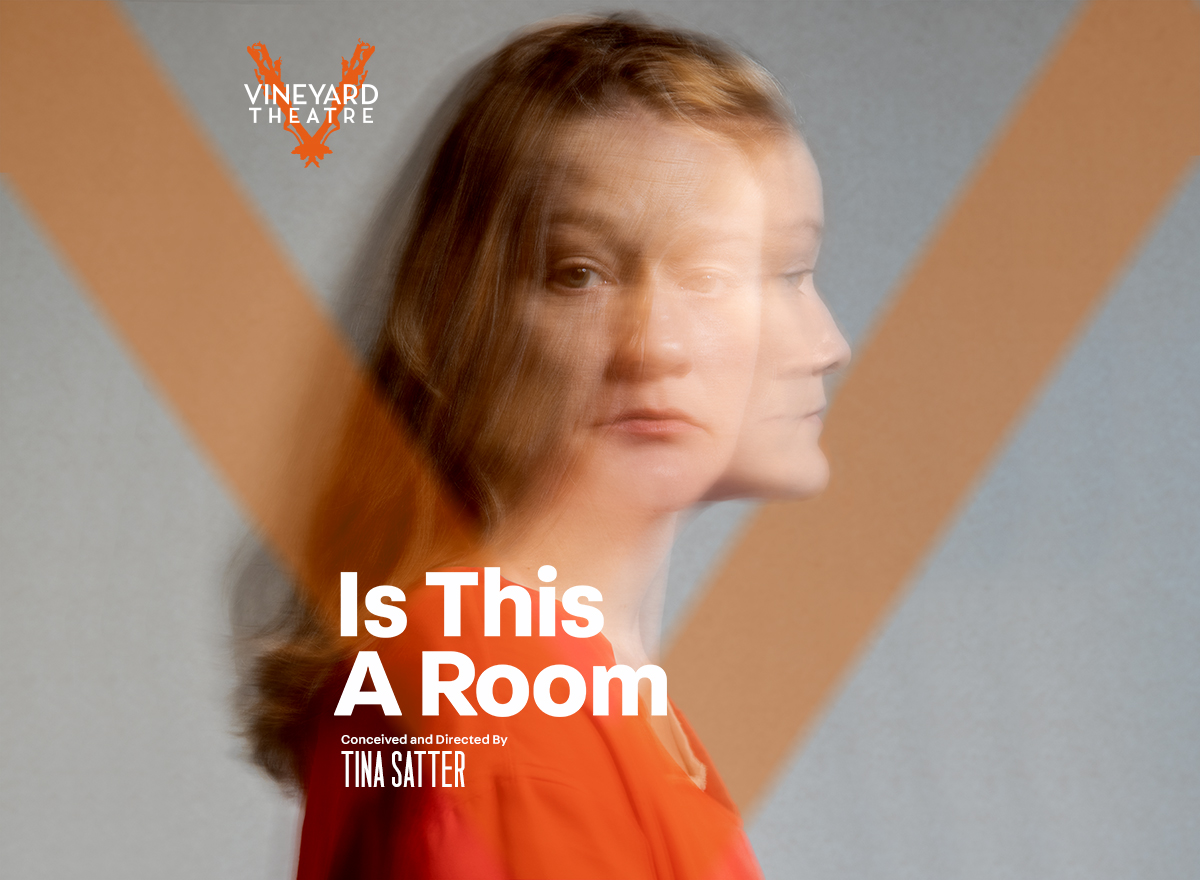 IS THIS A ROOM
Conceived and Directed by Tina Satter
With Becca Blackwell, Frank Boyd, Emily Davis, Pete Simpson, TL Thompson
A true story, still unfolding. June 3, 2017. A 25-year-old former Air Force linguist named Reality Winner is surprised at her home by the FBI, interrogated, and then charged with leaking evidence of Russian interference in U.S elections. Reality remains in jail with a record-breaking sentence.
The FBI transcript of her interrogation is the heart of IS THIS A ROOM, conceived as a play and directed by Obie Award-winner Tina Satter, in which an extraordinary human drama unfolds between the complex and witty Reality (Emily Davis), and the agents who question her. As Reality's autonomy shrinks before her eyes, a simmering real-life thriller emerges, asking what it is to have honor in this American moment, and how the personal can reverberate globally.
To learn more about Reality Winner also check out this page.
---
Listen to Tina Satter and Emily Davis talk about why Reality Winner's story is such an important and timely one to be told, on the latest episode of Theatre Uncorked.

---
Artists
Frank Boyd
Off-Broadway: GATZ (Public Theatre), THE SELECT (New York Theatre Workshop). Frank is the writer and performer of The Holler Sessions (Paradise Factory – NY Times Critics' Pick. Touring: Guthrie Theatre, ACT Theatre, Detroit Public Theatre). As a company member of the TEAM, he co-created and performed in Architecting and Particularly in the Heartland. Frank has also toured with Young Jean Lee's Theater Company in Straight White Men. Frank is currently developing a new show about baseball that takes place in post-apocalyptic Iowa. Film: Thin Skin, Almost Family. TV: "Z Nation".
Kate Holland
(Production Manager) Vineyard Theatre debut. Off-Broadway: BROADBEND, ARKANSAS (Transport Group), NATIVE SON and MEASURE FOR MEASURE (Acting Company), DESPERATE MEASURES (New World). Regional: Baltimore Center Stage (TWISTED MELODIES, JAZZ, DETROIT '67, WHITE SNAKE, LES LIAISONS), Detroit Public Theatre (DETROIT '67), Charm City Fringe Festival. Other: NYU/Tisch Grad Program (Producing Supervisor), University of Maryland, Clarice Smith Center (Production Coordinator). Kate also served as Deputy GM of Hudson Theatre (1984, THE PARISIAN WOMAN), and is an Actor (AEA) and Director. www.thekateholland.com
Esti Bernstein
(Assistant Stage Manager) Vineyard Theatre: GIGANTIC (Deck Carpenter), KID VICTORY (Assistant Production Manager), THE BEAST IN THE JUNGLE (Associate Production Manager), REBEL VERSES 2017—2019 (Production Stage Manager). Off-Broadway Stage Management: GOD SHOWS UP, THE OTHER JOSH COHEN, PARTY FACE, DON'T YOU F*CKING SAY A WORD. Select Regional Credits: Pennsylvania Shakespeare Festival (2018), Hudson Valley Shakespeare Festival (2011—2016), and ARC Stages (2018). Resident Stage Manager: Broken Box Mime Theater. Love and thanks to friends and family, ACL, BBB, and GVB
Maurina Lioce
(Production Stage Manager) Vineyard Theatre debut. Past work with Tina Satter and Half Straddle includes IS THIS A ROOM and HOUSE OF DANCE. She has stage managed for Jim Findlay, David Byrne, Sibyl Kempson's 7 Daughters of Eve, Andrew Ondrejcak, Mike Iveson, Erin Markey, Suzanne Bocanegra, Young Jean Lee and Adrienne Truscott. Maurina has been the stage manager for Elevator Repair Service since 2014.
Randi Alyse Rivera
(Production Stage Manager) Vineyard Theatre debut. With Half Straddle since 2012. Half Straddle: SEAGULL (THINKING OF YOU), AWAY UNIFORM, IN THE PONY PALACE/FOOTBALL, HOUSE OF DANCE, ANCIENT LIVES, GHOST RINGS, and IS THIS A ROOM. Other favorite colleagues: Keigwin & Company, Dance Heginbotham, Harlem Stage, Faye Driscoll Group, Doug Elkins Choreography Etc, The Chocolate Factory, Andrew Schneider, Ivy Baldwin Dance, Cathy Weis, Sean Donovan, and Phantom Limb Company. All is for her family
Amanda Villalobos
(Puppet Design) Vineyard Theatre debut. Broadway: AMÉLIE (Walter Kerr). Other Theatre: HAND TO GOD (Berkeley Rep), FONDLY, COLLETTE RICHLAND (NYTW), GHOST RINGS (NYLA), MEASURE FOR MEASURE (Public Theater), IS THIS A ROOM (The Kitchen), EVERYONE'S FINE WITH VIRGINIA WOOLF (Abrons Arts Center), RIDDLE OF THE TRILOBITES (New Victory). TV: "Late Night with Seth Meyers." Installation design: 12 Shouts to the 10 Forgotten Heavens Series (Whitney Museum). Performance credits include THE PEE-WEE HERMAN SHOW ON BROADWAY (Stephen Sondheim Theater and on HBO).
Sanae Yamada
(Sound Design/Original Music) Vineyard Theatre debut. Sanae is a musician based in Portland, Oregon. She tours and records as a member of the band Moon Duo and as a solo artist under the name Vive la Void. The music for IS THIS A ROOM is her first theatrical score and first collaboration with Half Straddle.
Thomas Dunn
(Lighting Design) Vineyard Theatre debut. Thomas designs lighting throughout US and abroad. Select design credits include works with Wally Cardona, Steve Cosson/The Civilians, Annie Dorsen, DD Dorvillier/ human future dance corp, Daniel Fish, Beth Gill, Trajal Harrell, Jennifer Lacey, Molly Lieber and Eleanor Smith, Noémie Lafrance/Sens Production, David Levine, Ong Keng Sen/TheatreWorks Singapore and Jay Scheib/NYCO. Thomas is the recipient of a Kevin Kline Award for Outstanding Lighting Design for THE LITTLE DOG LAUGHED at The Repertory Theatre of St. Louis, as well as a Bessie Design Award for NOTTTHING IS IMPORTANTTT with DD Dorvillier/human future dance corps.
Enver Chakartash
(Costume Design) Vineyard Theatre debut. With Tina Satter/Half Straddle: GHOST RINGS, ANCIENT LIVES, HOUSE OF DANCE, SEAGULL (THINKING OF YOU). With The Wooster Group: A PINK CHAIR (IN PLACE OF A FAKE ANTIQUE), THE B-SIDE, THE TOWN HALL AFFAIR, EARLY SHAKER SPIRITUALS, EARLY PLAYS (Henry Hewes Design Award Nomination). With Young Jean Lee's Theater Company: STRAIGHT WHITE MEN. With Reggie Wilson/Fist and Heel Performance Group: POWER, CITIZEN.
Parker Lutz
(Scenic Design) Vineyard Theatre debut. Parker has designed sets for Half Straddle, Mike Iveson and Sarah Michelson. Bessie Award for Visual Design for Dogs at BAM Next Wave Festival and Bessie Award for Sustained Achievement in Dance.
TL Thompson
TL Thompson (They/Them/T) credits include: Broadway: Straight White Men (Person In Charge u/s) at Second Stage Theater. Theater: Is This A Room (Agent Taylor) at Vineyard Theatre, Waafrika 123 (Aweeno) at Criminal Queerness Festival, NERVOUS/SYSTEM (Pollster) at BAM Next Wave, AFTER (Company) at Public Theater Podcasts, Meet Cute Podcast. "Adventures in New America", "Welcome to Nightvale". Webseries: "THESE/THEMS" (TI), Dir. Jett Garrison. THE HUNTED (Nic), Dir. Crystal Arnette. Films: Flu$h (Wrex), Dir. Heather Acs. Friday Afternoon Dir. Paige Campbell. TL is also in the NY Neo Futurist, who performs frequently in The Infinite Wrench, an ongoing attempt to perform 30 plays in one hour. TLThompsonactor.com.
Becca Blackwell
Vineyard Theatre debut. A NYC based trans actor, performer and writer. Existing between genders, and preferring the pronoun "they," Blackwell works collaboratively with playwrights and directors to expand our sense of personhood and the body through performance. Their work includes THEY, THEMSELF AND SCHMERM and SNATCH ADAMS AND FRIENDS. Film/TV: "High Maintenance," "Shameless," and "The Marriage Story." Becca was awarded the Doris Duke Impact Artist Award and is currently a Joe's Pub artist resident.
Emily Davis
(Reality Winner, Is This A Room) Vineyard Theatre debut. Recent New York productions: Singlet (The Bushwick Starr), Of Government (Clubbed Thumb), My Old Man and Other Stories (Dixon Place), O, Earth! (The Foundry Theatre). Emily has worked with theater company Half Straddle for over a decade, performing in the U.S. and abroad in their original plays, including Ancient Lives, The Seagull (Thinking Of You), In The Pony Palace/Football, and Family. Film: The Plagiarists, Almost Family, Gwen in Corpus.
Tina Satter
(Conceiver and Director, Is This A Room) Vineyard Theatre debut. Tina is a writer and director for theater and film. Founder and Artistic Director of Half Straddle, a critically acclaimed, Obie-winning theater company based in New York City. Since 2008 the company has premiered 10 full-length shows, and a number of shorter works and video projects that have been seen at festivals and theaters throughout the U.S., Europe, Australia, and Asia. In addition to Is This A Room, plays she's written and directed with Half Straddle and toured internationally and nationally include House of Dance, Ghost Rings, Seagull (Thinking Of You), and In The Pony Palace/Football, among others. Tina is the recipient of a Foundation for Contemporary Arts and Doris Duke Impact Artist awards. Attended Mac Wellman's graduate playwriting program at Brooklyn College; M.A. from Reed College; B.A. from Bowdoin College. Visiting artist and/or teacher at Princeton, Yale, NYU, Sarah Lawrence, Hunter MFA Playwriting, University of Michigan, University of Pennsylvania, and more. www.halfstraddle.com.
Lee Kinney
(Sound Design) Vineyard Theatre: "Daddy", CAN YOU FORGIVE HER?. Other NY: SUNDAY (Atlantic), THOM PAIN (Signature), THE LIGHT YEARS (Playwrights Horizons), HOMOS (Labyrinth), A DOLL'S HOUSE, THE FATHER (TFANA); OPPORTUNITIES OF EXTINCTION, THE CONVENT OF PLEASURE (Cherry Lane); THE TOMB OF KING TOT (Clubbed Thumb). Regional: Weston Playhouse, Playmakers Rep, Long Wharf, People's Light, Idaho Shakespeare, Great Lakes. Thanks to Kris. @thisisleekinney
Pete Simpson
Vineyard Theatre: MIDDLETOWN. Half Straddle: AWAY UNIFORM. Other NYC Theater: BLUE MAN GROUP (Astor Place Theater), GATZ (NYU/Skirball Auditorium), THE SELECT (NYTW), STRAIGHT WHITE MEN (Public Theater), THE TERRIFYING (Abrons Arts Center), and other works with Young Jean Lee, Elevator Repair Service, Julia Jarcho, Richard Maxwell, others. Regional: Denver Center, WTF, Westport Country Playhouse. Film: Marriage Story, Lincoln in the Bardo, Morning Glory. TV: "Gotham", "Law and Order" 2017 Obie winner for Sustained Excellence of Performance.