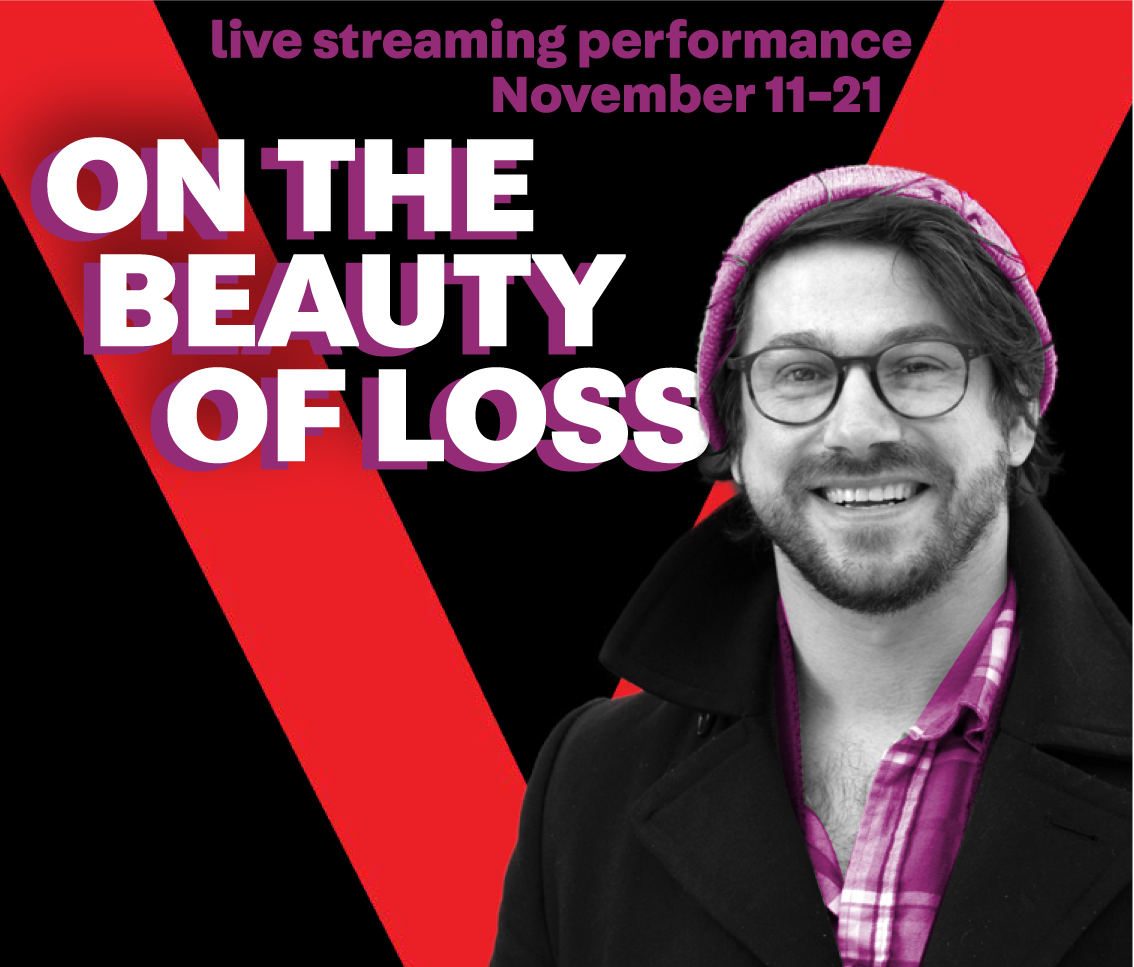 On the Beauty of Loss Special Added Performance
by Jared Mezzocchi
Original composition by Lee Kinney
Mini-Commission | 8PM, December 6, 2021
Zoom Performance
SPECIAL ADDED PERFORMANCE: December 6
Book now!
Please click on the "BUY TICKETS" tab above to purchase now.
Members
Login to your Vineyard Account then return to this page & click on the above tab "BUY TICKETS" to select your performance date.
On The Beauty of Loss is an introspective, live, multimedia performance that explores how the emergence of social technology has shifted the ways humans collect memories and comprehend grief. This journey explores the loss of two family members, a father passing before the invention of the iPhone, and a grandfather reaching the end of his life 16 years later, in the peak of the pandemic. Our journey places the audience in a car, traveling hundreds of miles…and challenges the live virtual performance space to be as live as it has ever been.
On December 6, 2004, exactly 17 years ago, Jared Mezzocchi received a fateful call that led him to drive through the night in a blizzard to be with his dying father, a ride depicted in On The Beauty of Loss. In this special final performance, Jared will tell the story on the date that it happened, reclaiming it as a date of both grief and creation, and celebrating the lives of loved ones lost.
In order to make this special event available to the broadest community possible, we will be offering all tickets to the December 6 performance at our Community Supported ticket price of $15.
Artists
Jared Mezzocchi
Jared Mezzocchi is an Obie award winning director and multimedia designer, playwright, and actor. Mezzocchi's work spans the United States at notable theaters such as: The Kennedy Center, Geffen Playhouse, Arena Stage, Woolly Mammoth Theatre Company, Cornerstone Theater Company, Portland Center Stage at The Armory, South Coast Repertory, HERE Arts Center, and 3LD. In 2016, he received the Lucille Lortel and Henry Hewes Award for his work in Qui Nguyen's Vietgone at the Manhattan Theatre Club. In December of 2020, The New York Times highlighted Jared on a list of the top 5 national artists making an impact during the pandemic. His digital performance work was also celebrated as a 2020 New York Times Critic's Pick on Sarah Gancher's Russian Troll Farm where it was praised for being one of the first digitally native successes for virtual theater. In Spring 2021, Jared wrote and starred in Someone Else's House, directed by Margot Bordelon, a ghost story centered around actual events with his family. This production was an 11 week run, performed live online each night to audiences all over the world. His book, A Multimedia Designer's Method to Theatrical Storytelling, will be released in Spring 2021/22 through Routledge Publishers. He is a two-time MacDowell Artist Fellow, a Princess Grace Award winner, and is the Artistic Director of Andy's Summer Playhouse. Jared is an Associate Professor at the University of Maryland and the CEO of his production company, Virtual Design Collective (ViDCo).