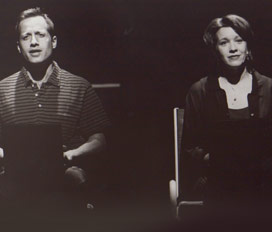 The Dying Gaul
Written by Craig Lucas
Directed by Mark Brokaw
With Linda Emond, Tim Hopper, Robert Emmet Lunney, Cotter Smith

Benefit Reading | June 24, 2013
The cast of Craig Lucas' THE DYING GAUL — Linda Emond, Cotter Smith, Tim Hopper, and Robert Emmet Lunney will reunite for the first time since the play, directed by Mark Brokaw, debuted at the Vineyard in 1998. When THE DYING GAUL opened at The Vineyard, The New York Times called it "deeply provocative," USA Today called it "one of the best plays of the year," and the Wall Street Journal proclaimed it "the best American Play of the year." This psychological thriller about Hollywood, power, sex and betrayal is a compelling portrait of a complex relationship between an impressionable young writer and the producer who seeks his script for film production. THE DYING GAUL was later made into a critically acclaimed film.
This special celebration of the Vineyard's 30th Anniversary Season takes place on Monday, June 24th at 8pm at Vineyard Theatre (108 East 15 St., between Irving Place and Union Square East).
tickets $75
VIP tickets $250 includes program credit, premium seating and afterparty. Please email development@vineyardtheatre.org or call 212-353-3366 x242.
$65 of the regular ticket price and $200 of the VIP ticket price for this benefit performance is tax-deductible and all proceeds from both readings benefit The Vineyard's productions and programs.
Photo: (L to R) Tim Hopper and Linda Emond in THE DYING GAUL. Photo by Carol Rosegg.