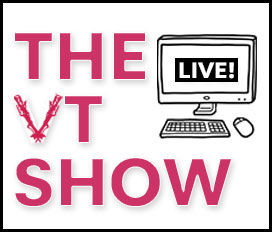 THE VT SHOW
Vineyard Theatre is opening our virtual doors for you to spend time with our friends and artistic collaborators. A weekly online series featuring Vineyard artists sharing conversation, insight and performances from celebrated Vineyard productions as well as work in development for future seasons. Find inspiration with our community of artists during this difficult time in all […]
Vineyard Theatre is opening our virtual doors for you to spend time with our friends and artistic collaborators. A weekly online series featuring Vineyard artists sharing conversation, insight and performances from celebrated Vineyard productions as well as work in development for future seasons. Find inspiration with our community of artists during this difficult time in all of our lives.
Our programming is free and open to the public, subscribe to our YouTube channel and watch LIVE! View past episodes at anytime here.
---
Join us on Facebook or YouTube.
---
Past episodes can be viewed in their entirety below. Please click on the artists' name to watch that episode.
Tuesday, May 18 at 6PM – Cornelius Eady, Joe Morton, and Sally Murphy will be on to discuss Brutal Imagination, why it's as significant now as it was 20 years ago, and what they hope people will take away from the show in 2021. Don't miss this candid conversation hosted by Reggie D. White (Co-Creator of Lessons in Survival) and Sarah Stern about the mythologies and weaponization of race in America, performing poetry, and more.
Thursday, January 14 at 7PM – A tell-all with film casting director and Vineyard Theatre Artistic Director, Douglas Aibel plus surprise guests from the cast of Gloria show up! Hosted by Sarah Stern (Vineyard Theatre Artistic Director) and Reggie D. White (Co-Creator of Lessons in Survival), go behind the scenes to learn about the art of casting and hear inside stories behind some of your favorite films. Douglas Aibel's many film casting credits include Marriage Story, Manchester by the Sea, Grand Budapest Hotel, Split, Dead Man Walking, and such notable television series as "Succession", "Mozart in the Jungle", and "Servant."
Tuesday, September 29 at 5:30PM – the co-conceivers of LESSONS IN SURVIVAL discuss the evolution of the project, perform work in progress, and reflect on the active legacy of revolutionary artists and thinkers in our current moment.

Tuesday, June 23 at 5PM – Oppenheimer Award-winning playwright and poet Cornelius Eady, and renowned actors Joe Morton and Sally Murphy, reunite to discuss Eady's play BRUTAL IMAGINATION, which premiered at The Vineyard in 2002 and remains a potent examination of racial injustice in America. BRUTAL IMAGINATION is based on Eady's poem cycle exploring the notorious 1994 incident in which Susan Smith, a white woman from South Carolina, claimed that an African American man had kidnapped her children. The FBI searched for the man until Smith confessed the truth: she had invented the man and had drowned the children. BRUTAL IMAGINATION brings this invented man to life and tells the story from his perspective.
Tuesday, June 16 at 5PM – Director/Actor/Musician Whitney White guest hosts , in conversation with playwright-actor NGOZI ANYANWU, to talk about making work across mediums and in this moment. Whitney White is director-in-residence at The Vineyard and the recipient of Vineyard Theatre's 2018 Susan Stroman Directing Award. Ngozi Anyanwu is a playwright and actor. Her plays include GOOD GRIEF, which had its New York premiere at The Vineyard in 2018.
Tuesday, May 26 at 5PM – Brandon Victor Dixon will share experiences and material from his acclaimed career on stage, including THE SCOTTSBORO BOYS, and his growing body of work making his own music.
Tuesday, May 19 at 5PM – John Kander, Susan Stroman, and David Thompson talk about their decades-long collaboration, from their first show together, the revival of FLORA THE RED MENACE at The Vineyard, through THE SCOTTSBORO BOYS and THE BEAST IN THE JUNGLE, and how they are working together from home.
Tuesday, May 12 at 5PM – Judy Kuhn, Mandy Gonzalez, and special guest Anika Noni Rose revisit the music of Laura Nyro from The Vineyard's Obie Award-winning world-premiere production of ELI'S COMIN'.
Tuesday, May 5 at 5PM – Tina Satter, director of IS THIS A ROOM, and actress Emily Davis join Billie Winner-Davis, Reality Winner's mother, in conversation about the show, and what has happened to Reality Winner since her arrest, including her current clemency petition. IS THIS A ROOM was recently nominated for four Lortel Awards including Outstanding New Play, Outstanding Director, and Outstanding Leading Actress.
Tuesday, April 28 at 5PM – Michael R. Jackson and Lileana Blain-Cruz discuss the process of creating Jackson's new show WHITE GIRL IN DANGER, currently in development at The Vineyard, and share material from the piece.
Tuesday, April 21 at 5PM – Colman Domingo will take us into the process of creating his solo show A BOY AND HIS SOUL. He will share his relationship with soul music and the personal experiences that inspired the play and characters. Part personal history, part "process talk" about how to create a show from your personal story, part celebration of soul.
Tuesday, April 14 at 5PM – Douglas Aibel and Sarah Stern
Vineyard Theatre Artistic Directors answer viewer questions and share behind-the-scenes stories.
---
Our programming is free and open to the public. A gift in any amount will not only help us continue supporting our talented community during this difficult time, it will also ensure that The Vineyard emerges from this crisis with the ability to continue to provide an artistic home to artists and revolutionary theatre to you.
If you're in the position to make a gift to support our work, we hope you'll consider doing so—even $5, $10, $25 makes a big difference.
Artists
Brandon Victor Dixon
(Haywood Patterson) Broadway: THE SCOTTSBORO BOYS, THE COLOR PURPLE (Harpo, Tony Nomination), City Center Encores! HOUSE OF FLOWERS (Royal), THE LION KING Cheetah National Tour (Adult Simba, Original). Regional: RAY CHARLES LIVE! (Ray Charles, Ovation Nomination), GUYS AND DOLLS, ROMEO AND JULIET, HOW TO SUCCEED…, Columbia University's 107th Annual Varsity Show. TV: "Quincy Jones's America's Millennium", ABC's "OLTL" (Darryl), "L&O: Criminal Intent" (Dix). Awards: Columbia University's I.A.L. Diamond Award, NFAA First Level, British Academy of Dramatic Acting scholarship, Presidential Scholar Semi-Finalist. Brandon, a Columbia University graduate, thanks family, Jack Waddell, and Abrams Artists/Noble Talent Management for their continuous belief in him. BrandonVictorDixon.com, Findingmorganfreeman.com.